Drum Sound of the 2000's Finnish Metal
VST/AU/AAX Compatible
6 Snares, 2 Kicks, 1 Full Set of Toms, 10 cymbals (Hihat, Crashes, Chinas, Splashes, Stacks, Ride)
~310 Mb Download Size
Drums Engineered by: Ron D. Rock @ New Soundstakk Studios, Windsor, ON
Drums Performed by: Ron D. Rock
REQUIRES KVLT DRUMS II to work
Sampler Engine
KVLT Drums II will feature our most advanced sampler-engine covering numerous round robins and velocity layers that will ensure the most realistic virtual drumming experience. Advanced scripting combined with our dynamic sampling technique will ensure that you won't get that machine-gun robotic effect out of this one.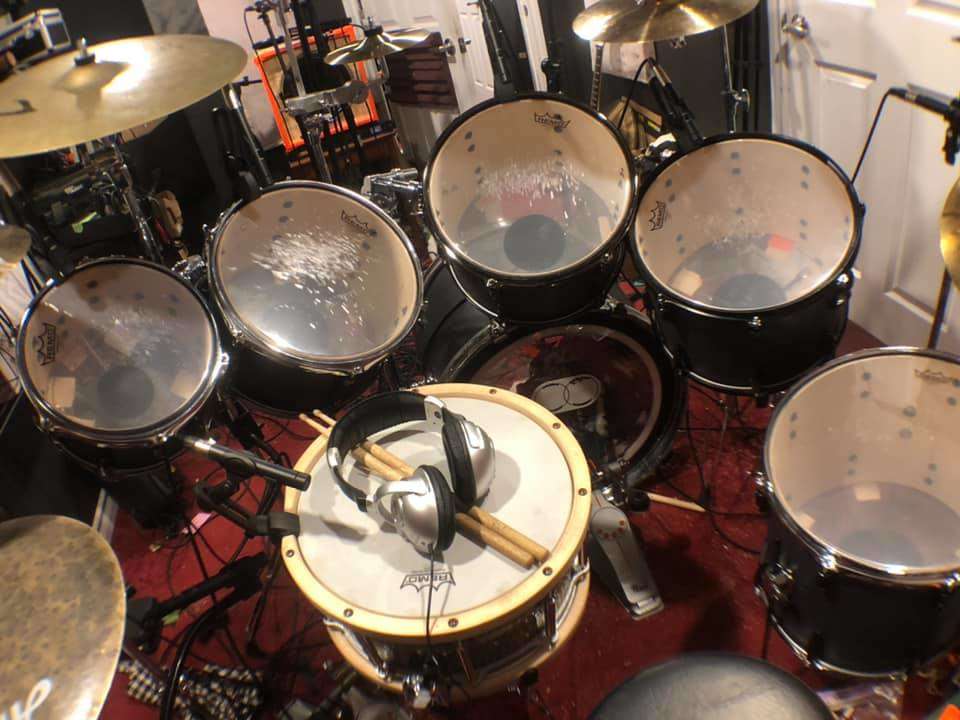 Interface & Mixing Features
The graphic user interface allows you to process the kit individually or in groups. You can adjust gain, pan & individual mic levels per each and every drum. Meaning that you can nail the perfect blend of close mics, adjust the levels for overheads, room & FX channels. Total control over every channel.

Drum panels makes it organized and allows free control on panel placement and also ables you to choose to see and adjust only the drums you need to adjust not coggle the entire window with dozens of buttons and knobs which you don't really always need. Organizing buttons on the bottom bar (open all, close all, position in grid, open mix/FX/Routing tab for all) Makes handling large amounts of panels a breeze for mixing and setup!

Mic Features:
To ensure full control over each and every channel, KVLT Drums II was captured with multiple close mics, FX mics along with Overheads & Room Channels.

Close Mics:
Snare: Slate Digital© ML-2
Toms: Slate Digital© ML-2
Cymbals: Slate Digital© ML-2
Kick: Slate Digital© ML-2 & Slate Digital© ML-1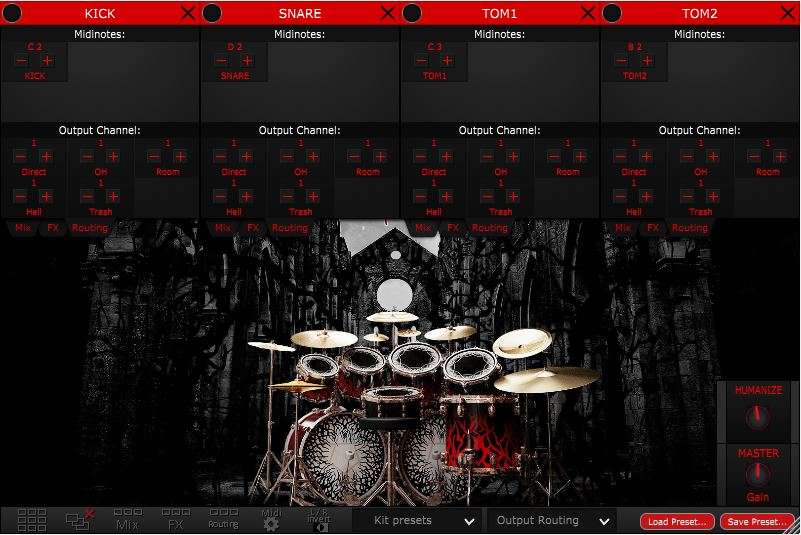 The Hell Mic:

Need parallel comp? Close mic channels were dialed through the Alesis compressor that's known for its robust pumping effect. Blend this with the rest of the kit to get that proper smack.

Hell Mic: Alesis 3630 Compressor



The Trash Mic:

Drums need 'verb. Give em verb with Trash channel. Close mic channels were dialed through this early 90's digital reverb to give them that unique character.

Trash Mic: Alesis Quadraverb



Overheads:

Overheads is the crucial element to each and every drum sound. Some like to get the full picture out of Overheads while some like to carve out the lows and let it sparkle in the highs. We gave you the fullest, yet brightest possible starting point for Overhead sound so regardless of your approach, you are one-step closer in nailing a good Overhead sound.

Overhead Mics: Slate ML2



Room Mics:

Room Channel captured the small yet punchy sound of the brand new Soundstakk Studios. Nulled away from the kit, the room mics added weight and depth into the drums. With added Plate reverb the small yet tight room ended up sounding way bigger.

Room Mic: Slate ML2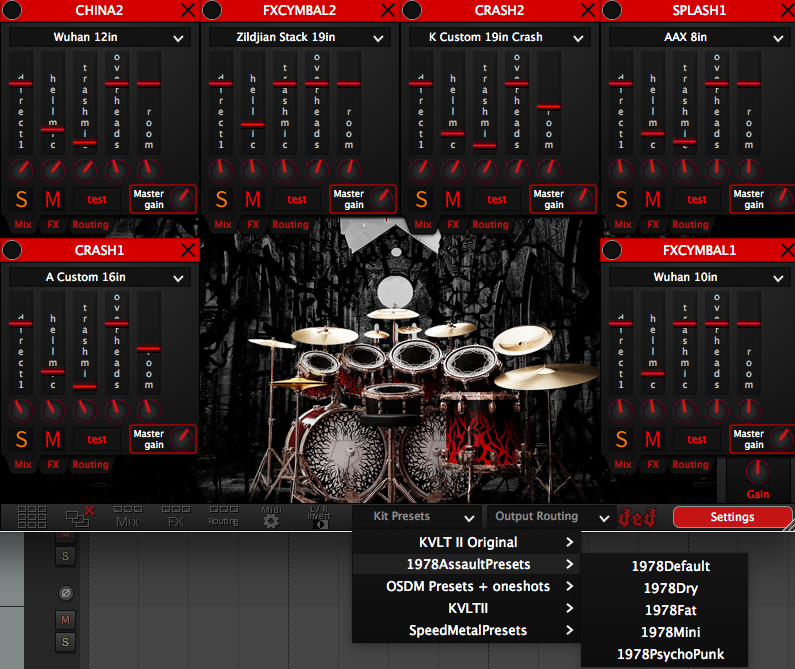 Kit Features:
Kicks:
Pearl© Reference Maple 22x18

Snares:
Mapex© Wraith 14x5.5
Pearl© Free Floating Maple 14x5
Pearl© Free Floating Maple 14x4
Pork Pie© BOB 14x6.5
Pork Pie© Little Squeeler 12x5
Ludwig© Hammered Brass 14x6.5

Toms:
Pearl© Reference Maple 10x7
Pearl© Reference Maple 12x9
Pearl© Reference Maple 13x10
Pearl© Reference Maple 14x12
Pearl© Reference Maple 16x14

Hihat:
Sabian© AAX 14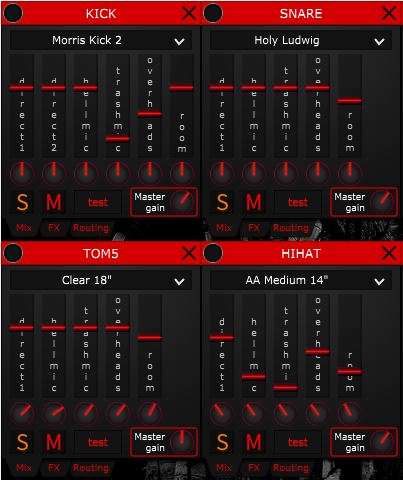 Ride:
Sabian© AAX 21" Medium

Crash:
Sabian© AAX 16
Sabian© AAX 18

China:
Sabian© HHX 18
Stagg© T-CH 16
Thomann© China 14

Splash:
Zultan© Aja 8
Millennium© 12

Stack:
Paiste© 900 China 14+12 Splash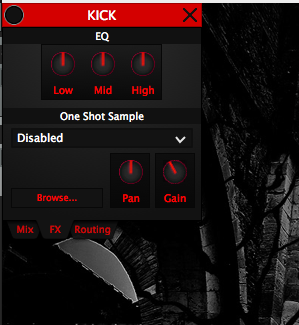 Load your own One-Shot samples:
Drums need more consistency and need to cut through mix better? Add One-shot WAV's! KVLT Drums 2 comes equipped with some cool one-shot WAV's to enhance your drumming experience even further. You can also load your own personal favourites to thicken up those drums.

With One-Shots KVLT Drums II Becomes almost endlessly adjustable drum sampler that can produce many varieties of heavy drum tones!
Kit Presets:
Not really sure how a certain Drum Sound was crafted? Kit Presets to the rescue!
We spent hours crafting these presets to give you the best possible starting point per genre & style. Flick through and see which style suits your song the best!

Preset list*:
CoreofPori
DefaultFinnKit
FinnPunk97
LaplandGrind
SpedeMetal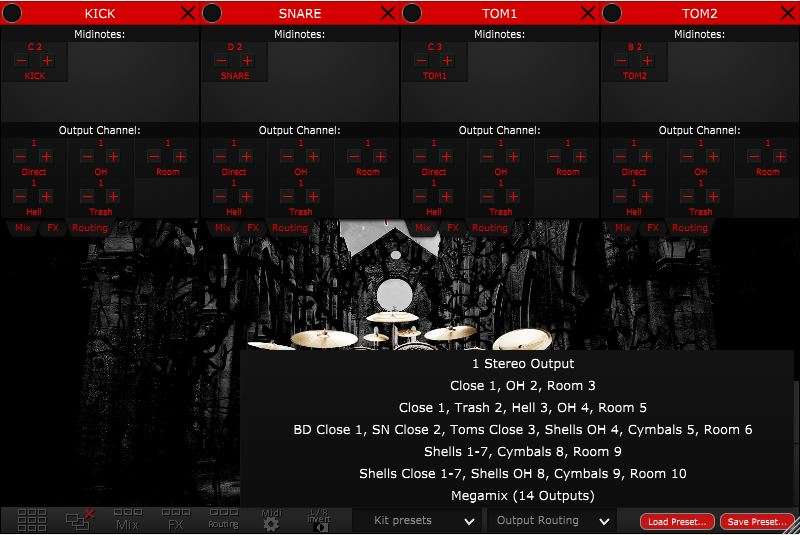 Output routing presets
KVLT Drums II Comes with 16 output channels to your audio editor for maximum mixing versatility. But sometimes it gets just too complex for the purpose. Output routing presets are here to help. Just need 1 single stereo output? Need to have Shells and Cymbals separated? It's all super easy!

But if you are like us and sometimes want to dive deep, it's possible!

For example you could compress only the toms and add some reverb. Need to add some saturation on the Cymbals or Snare? You got it. Multiband-compress your entire room channel? Done. Want to go totally whacky and mix different mics without any restrictions with each other and the add FX on your audio edtor? That's possible too! Free multi output routing is incredibly flexible when doing pro mixes and going all nuts!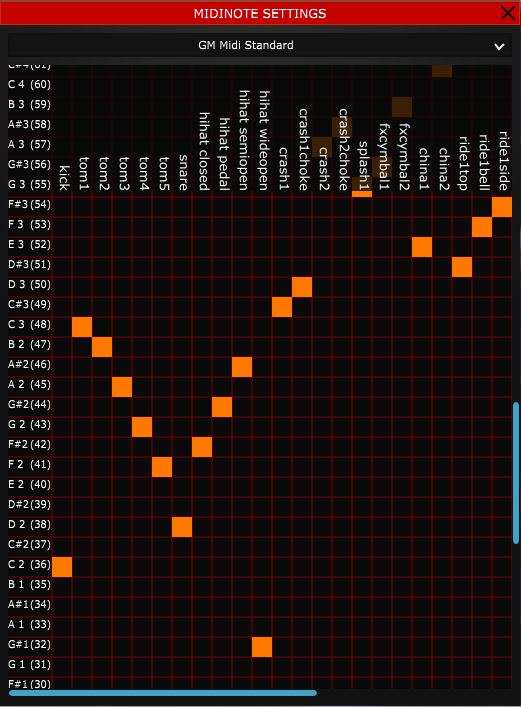 Adjustable Midinotes
There's 2 ways in KVLT Drums II To adjust midinotes.

First one is on the individual drum panels, which makes it easy to see which note is for which drum / cymbal (hihat Closed / Pedal / Open etc).

The other one is midimap editor which allows you to see all the midinotes on one matrix and adjust them at once, and also load different midimap presets to match some major drum sample libraries and midipacks.

Midieditor also shows played midinotes so it helps you to map your midinotes, for example, with an electronic drumkit that often times doesn't follow any standard for notes.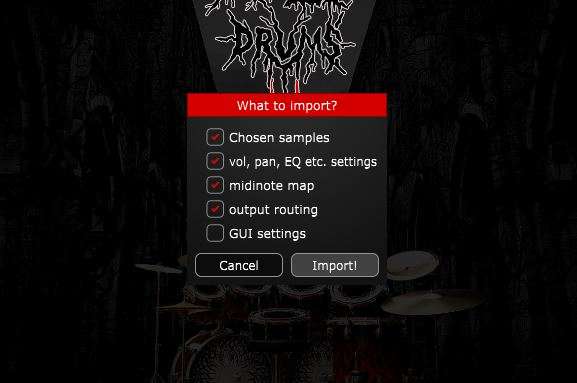 Save & Load your own Presets
You can save presets outside audio editor and even share them, but most importantly, to ease workflow. With dynamic loading you can select what to import, which makes for example, loading just a midinote map for your e-kit super easy, or loading the chosen samples but keeping everything else untouched to test different combinations for your mix.