KVLT Drums II: Old School Death Metal RELEASE!
We are super proud to present our latest expansion for KVLT Drums II: Old School Death Metal (OSDM for short).

Perfect for that old school Tampa Death Metal sound!

Please note: this expansion requires KVLT Drums II, which comes with additional 12 snares, 2 Kicks, 3 set of Toms and 12 Cymbals!
KVLT Drums II: OSDM in action:
KVLT Drums II: Speed Metal in action: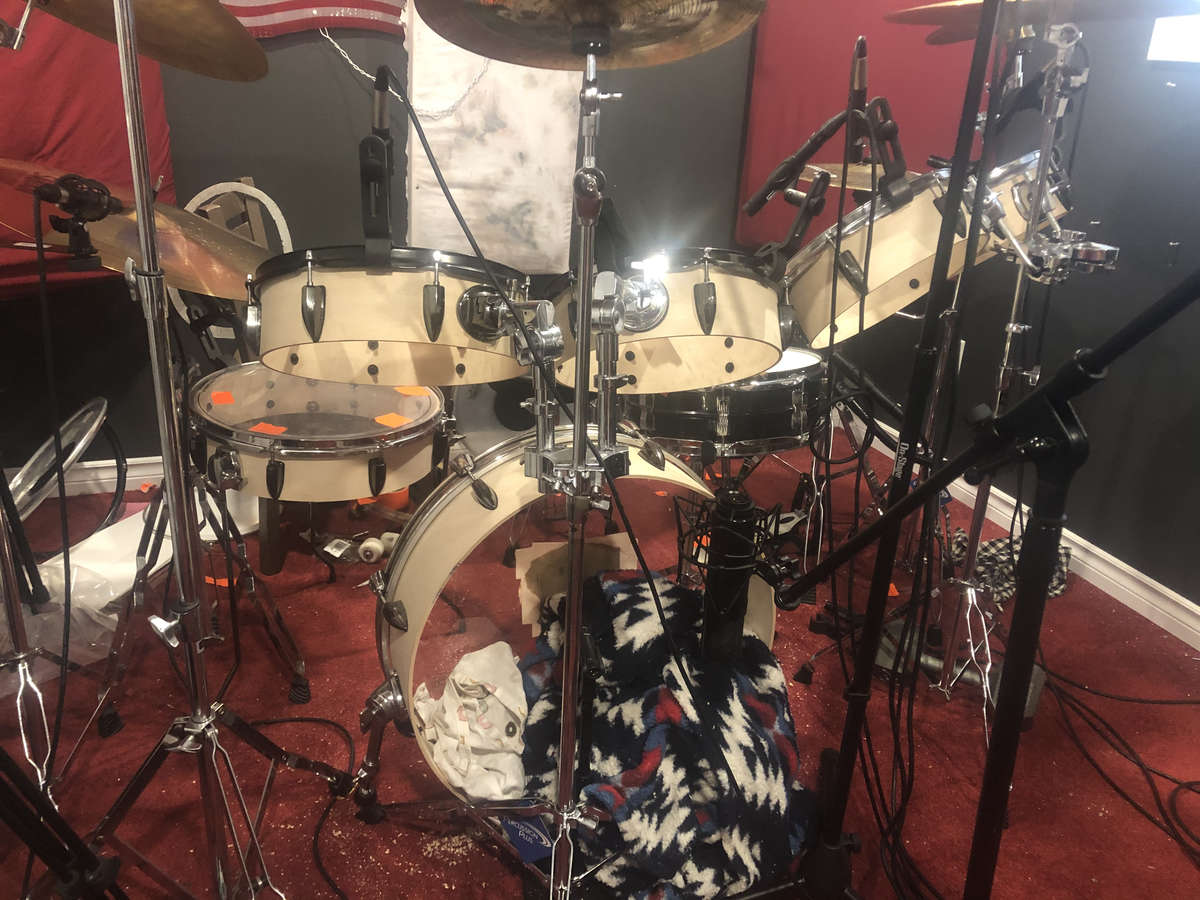 Take a trip back to early 1990's Florida
As lifelong fans of records such as "Blessed Are the Sick", "Individual Thought Patterns", "Tomb of the Mutilated", "Cause of Death", "From Beyond", "The Ten Commandments" etc we wanted to capture the Drum Sound of that era in a Drum Sample library/VSTi form.

In order to get that fast-decaying tom sound we had to custom order 4" deep Maple shells. Combined with 3-ply Clear heads it gave the drums this signature sound.

Collection of snares include classic medium to high pitch snares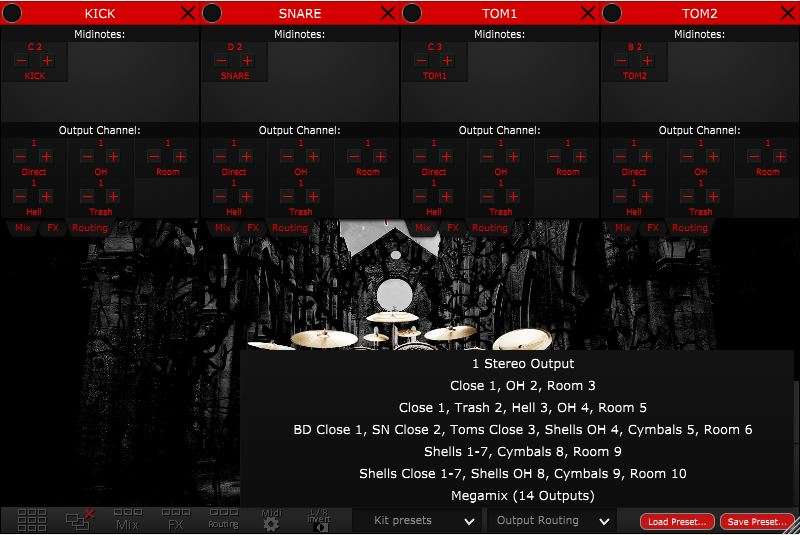 Create realistic Drum Tracks, in minutes (not hours)
KVLT Drums II expansions use our most advanced sampler-engine covering numerous round robins and velocity layers that will ensure the most realistic virtual drumming experience. Advanced scripting combined with our dynamic sampling technique will ensure that you won't get that machine-gun robotic effect out of this one.
Either program your own MIDI Grooves, use an electronic drum set/MIDI keyboard or grab one of our
MIDI Packs
to speed up your songwriting
How Can I Use Virtual Drums?
(In case you are completely new to our recording, here's a short description:)

We produce and sell virtual instruments and related products that work on audio editor / mixing software like Reaper, Pro Tools, Cubase, Logic Pro or Garageband. With our products you can produce realistic drum beats on your computer!

In order to use our products you'll need a decent computer, Windows or Mac OS X operating system and some audio editor software as laid out above. The audio editor needs to support MIDI and VST, AU or AAX plugin formats.
The drums on above demo songs have been created using our own virtual drum instruments and mixed together with real guitar recording and other instruments.

We also have other products on sale like MIDI Packs (drum grooves for our virtual drum plugins), or other musical production tools like reverb and guitar cabinet simulations.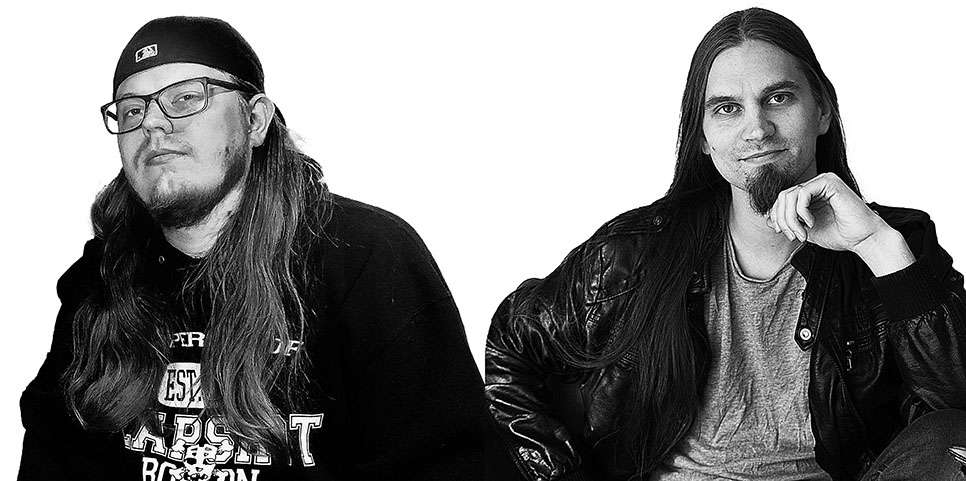 Who are we?
"True innovation lies in those who'll truly dare to challenge the status quo"

Ugritone, offers audio-tools made by Ron D. Rock and Toni Kauko. We are Homestudio producers making Plugins, Virtual Instruments and Songwriting tools for Homestudio producers.

Sounds of the yesteryears with a modern twist and workflow.

Whether it's Black Metal, Punk, Thrash or Chiptune, you'll likely to find a familiar tone from our products.
What customers have said about us?
Our average customer rating is 4.6 out of 5.0 stars (Based on 1561 reviews)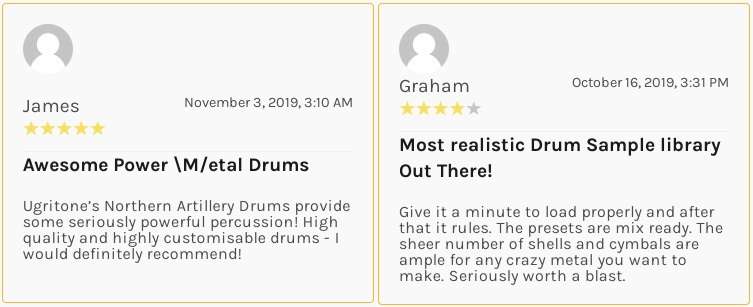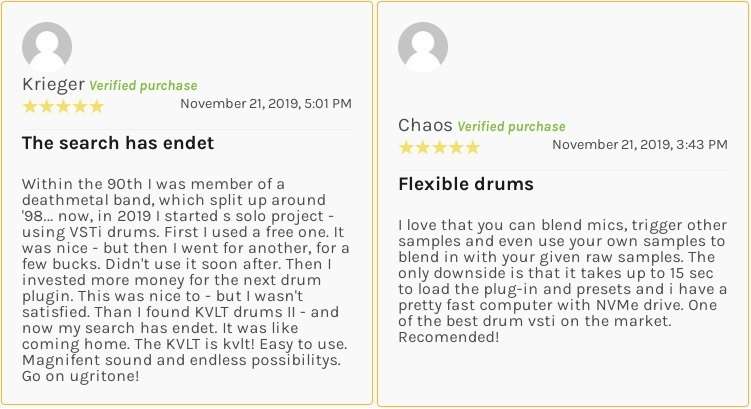 What producers have said about us?
RIOT Drums
"Really good and natural samples. Simple interface, incredibly fast tweaking in the mixer and routing sections! And snare is sounding great on blastbeats!!!"

- Stefano Morabito, Producer (Fleshgod Apocalypse, Decrepit Birth, Internal Suffering, Hour of Penance, Obscenity)
KVLT Drums
"These drums deliver the exact sound of the classic Norwegian Black Metal days. Perfect start for your new black metal project. Completely unprocessed and ready for music from the cold dark north. They're great!"

- Scott Elliott (Chernobyl Studios)
TRVE Cab
"Ugritone really knocked the ball out of the park with this one. I was really impressed with how dead-on target these IR's sound, absolutely on point! I felt like I was standing in the rehearsal room, right next to my amp - or at a mythical guitar friendly recording studio"


-Karl Sanders (Nile)
Why go with Ugritone?
We are not here to serve the "industry standard", which means we have no quotas to meet & no trends to follow.

Our products aren't made by A-list producers in a million dollar studio with drum kits rented from a museum. We don't process our sounds to the max on the way in.

We believe YOUR music should sound like YOU.

Less we process the sounds, the more it lets YOU process them.