Almighty MIDI Pack: 2017-2023 MIDI Collection
Regular price
$470.00 USD
Sale price
$99.00 USD
Unit price
per
Sale
Sold out
All the 2017-2023 MIDI packs produced by Ugritone!
OVER 4500 BEATS / FILLS! 

4500+ Grooves. Black Metal, Death Metal, Metalcore, Deathcore, Thrash Metal, Hardcore, Punk, Grunge, Doom, Grindcore, Post Metal, Emo, Heartland Rock, Industrial, Rock, Heavy Metal, Djent Drum MIDI Grooves... And more!

Compatible Samplers: EzDrummer, Superior Drummer, Perfect Drums, Addictive Drums, Getgood Drums, MT PowerKit, NI Studio Drummer, Kontakt, Battery

Compatible DAWs: Reaper, Cubase, Nuendo, Pro Tools, Logic Pro, Reason, Ableton, Digital Performer, Samplitude, Sonar, Harrison MixBus, Bitwig Studio, Mixcraft, GarageBand, Studio One, FL Studio, BandLab
PLEASE NOTE: This MIDI package only contains Drum grooves and fills as MIDI files, no sampler included.
Includes the following MIDI Packs:
Beatdown Hardcore MIDI Pack
Black Metal Anthology MIDI Pack
Black Metal Essentials MIDI Pack
Crust Punk Essentials MIDI Pack
Death Metal Anthology MIDI Pack
Death Metal Essentials MIDI Pack
Deathcore Essentials MIDI Pack
Djentastic Drum MIDI Pack
Doom Metal Anthology MIDI Pack
Doom Metal Essentials MIDI Pack
Emocore Essentials MIDI Pack
Folk Metal Essentials MIDI Pack
Grindcore Essentials MIDI Pack
Grunge Rock Essentials MIDI Pack
HC Essentials MIDI Pack
Heartland Rock Essentials MIDI Pack
Industrial Metal Essentials MIDI Pack
Melodeath Essentials MIDI Pack
Melodic Metal Essentials MIDI Pack
Metalcore Essentials MIDI Pack
Nu Metal Essentials MIDI Pack
NWOBHM Essentials MIDI Pack
Post Metal Essentials MIDI Pack
Power Metal Essentials MIDI Pack
Progressive Death Metal Essentials MIDI Pack
Rock Anthology MIDI Pack
Skate Punk Essentials MIDI Pack
Slam Death Metal MIDI Pack
Street Punk Essentials MIDI Pack
Thrash Metal Essentials MIDI Pack
Youth Crew Hardcore MIDI Pack
Freebie Rock Grooves
Share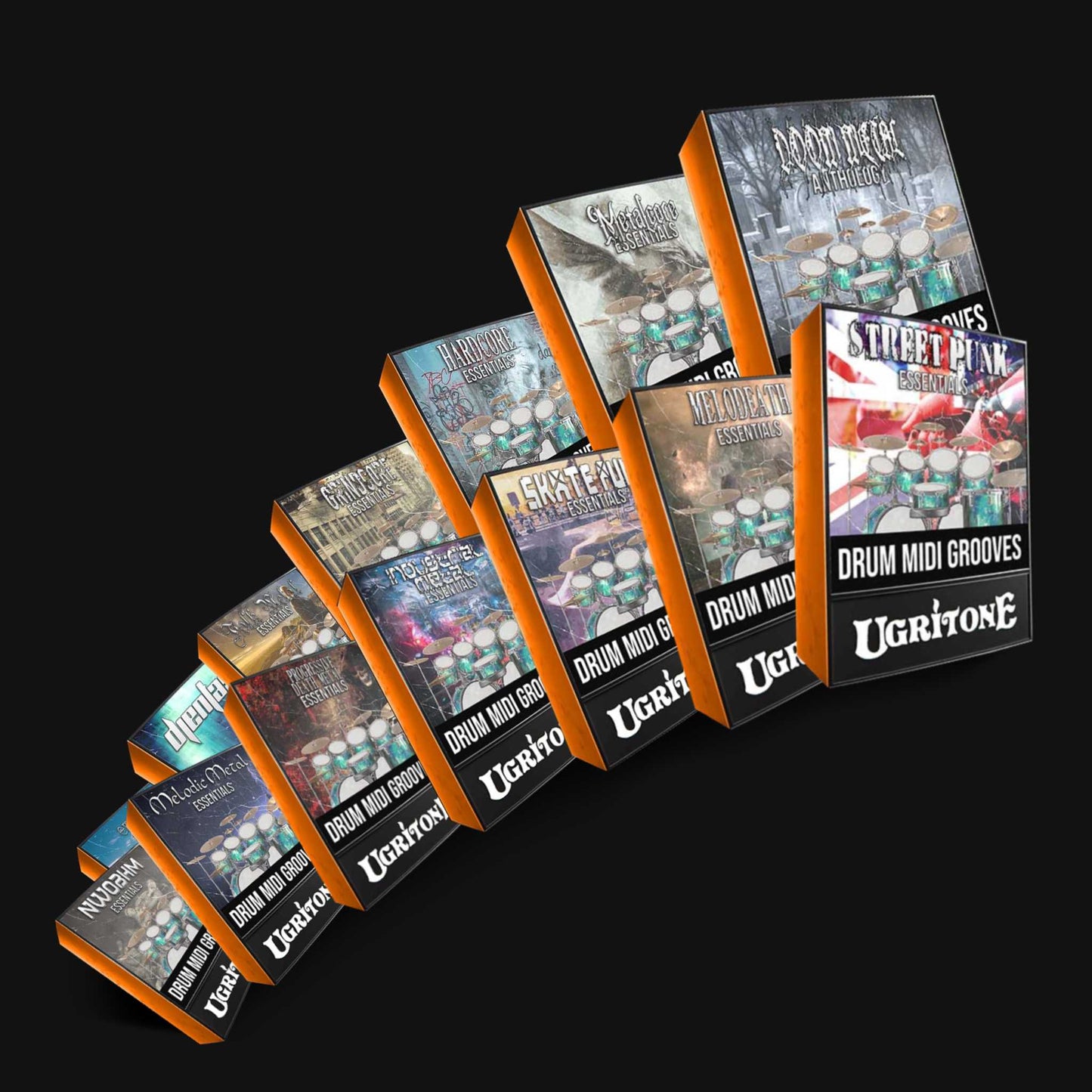 Collapsible content
System Requirements

Plugins of Ugritone have been successfully tested with the following Operating Systems and Digital Audio Workstations: Please note that this list is subject to change, it will be updated as we complete more tests. This list is not exclusive.

Plugin formats: VST & AU & AAX. Check the specific product for more details.

Operating System:


64-bit Windows 7 SP1 and higher
64-bit MAC OS X 10.9 and higher
New Mac M1&M2 works
older 64-bit Intel Mac works
iOS and Android, nor 32-bit systems 

NOT SUPPORTED

DAW (Audio editing software):


Pro Tools 11 and higher
Cockos Reaper 3.4 and higher
Steinberg Cubase 8 and higher
Cakewalk Sonar X3 and higher
Apple Logic X 10.2.1 and higher
Studio one 3 Professional (Artist edition requires an add-on to operate
3rd Party VST/AU Plugins)
Fruity Loops 11
Digital Performer 9
Ableton Live 8 on macOSX
Ableton Live 9 on PC
Reason 10 on PC
Magix Music Maker

Not-supported DAWs:

Minimum Hardware:
6GB of RAM
Dual Core CPU
a soundcard
4GB of hard drive space

You will need both, a supported Operating System, and a DAW(Audio software) that supports VST/AU/AAX plugins in order to run and use our products.

If the plugins does not work on Windows, make sure you have Visual C++ Redistributable for VS2012 (Official MS download here) installed, or VS2015(Here) depending on our product.
Delivery & Refund

We deliver products for you instantly upon purchase as a digital downloads.

We have a 180 day refund policy. If you are not satisfied with the product, just ask us for a refund within 6 months of your payment and you'll get it. NO QUESTIONS ASKED!