Almighty TRVE Cab Bundle
Regular price
$300.00 USD
Sale price
$39.00 USD
Unit price
per
Sale
Sold out
Includes TRVE Cab Impulse Response Loader with 15 IR Packs!

TRVE Cab is an Impulse Response loader designed for Heavy Rock & Metal Guitarists of any caliber. Simplified workflow - endless possibilities.

TRVE Cab comes in VST/AU/AAX format and can be used in both studio & live applications.


Load up to 8 IR's simultaneously via 8 separate slots

Cabinet graphics to help identify the mics in use

Low CPU use, low latency

Volume, pan, HiPass, LoPass, solo & mute controls for every channel

Load your own IR's

Comes with:

70's UK Hard Rock 

Impulse Response Pack

70's USA Hard Rock 

Impulse Response Pack

Big Rock Impulse Response Pack
Crossover Thrash 

Impulse Response Pack

Grunge Rock 

Impulse Response Pack

Hair Metal 

Impulse Response Pack

Hardcore 

Impulse Response Pack

Modern Metal 

Impulse Response Pack

NWOBHM 

Impulse Response Pack

Old School Black Metal 

Impulse Response Pack

SweDeath Impulse Response Pack

Texas Metal 

Impulse Response Pack

Ugritone Freebie Cab Pack

USA Death Metal 

Impulse Response Pack

USA Thrash Metal 

Impulse Response Pack
Share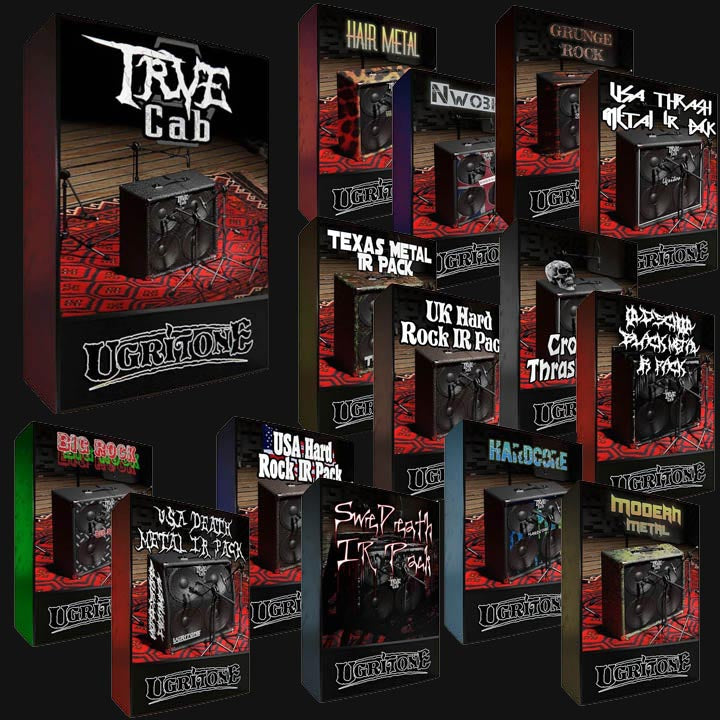 Collapsible content
System Requirements

Plugins of Ugritone have been successfully tested with the following Operating Systems and Digital Audio Workstations: Please note that this list is subject to change, it will be updated as we complete more tests. This list is not exclusive.

Plugin formats: VST & AU & AAX. Check the specific product for more details.

Operating System:
64-bit Windows 7 SP1 and higher
64-bit MAC OS X 10.9 and higher
iOS and Android, nor 32-bit systems NOT SUPPORTED

DAW (Audio editing software):


Pro Tools 11 and higher
Cockos Reaper 3.4 and higher
Steinberg Cubase 8 and higher
Cakewalk Sonar X3 and higher
Apple Logic X 10.2.1 and higher
Studio one 3 Professional (Artist edition requires an add-on to operate
3rd Party VST/AU Plugins)
Fruity Loops 11
Digital Performer 9
Ableton Live 8 on macOSX
Ableton Live 9 on PC
Reason 10 on PC
Magix Music Maker

Not-supported DAWs:

Minimum Hardware:
6GB of RAM
Dual Core CPU
a soundcard
4GB of hard drive space

You will need both, a supported Operating System, and a DAW(Audio software) that supports VST/AU/AAX plugins in order to run and use our products.

If the plugins does not work on Windows, make sure you have Visual C++ Redistributable for VS2012 (Official MS download here) installed, or VS2015(Here) depending on our product.
Delivery & Refund

We deliver products for you instantly upon purchase as a digital downloads.

We have a 180 day refund policy. If you are not satisfied with the product, just ask us for a refund within 6 months of your payment and you'll get it. NO QUESTIONS ASKED!