Assault Drums
Regular price
$49.00 USD
Sale price
$49.00 USD
Unit price
per
Sale
Sold out
Assault Drums captures the iconic sound of 1970's and early 80's Rock and Pop music, from the gritty Garage Rock of the UK to the polished Disco beats of the USA.

Whether you need to add a touch of that 8-track sound or fully embrace the 70's rock vibe, Assault Drums is the perfect tool to take your music to the next level. Try it out today and bring the rock of the 70's to your fingertips!
Share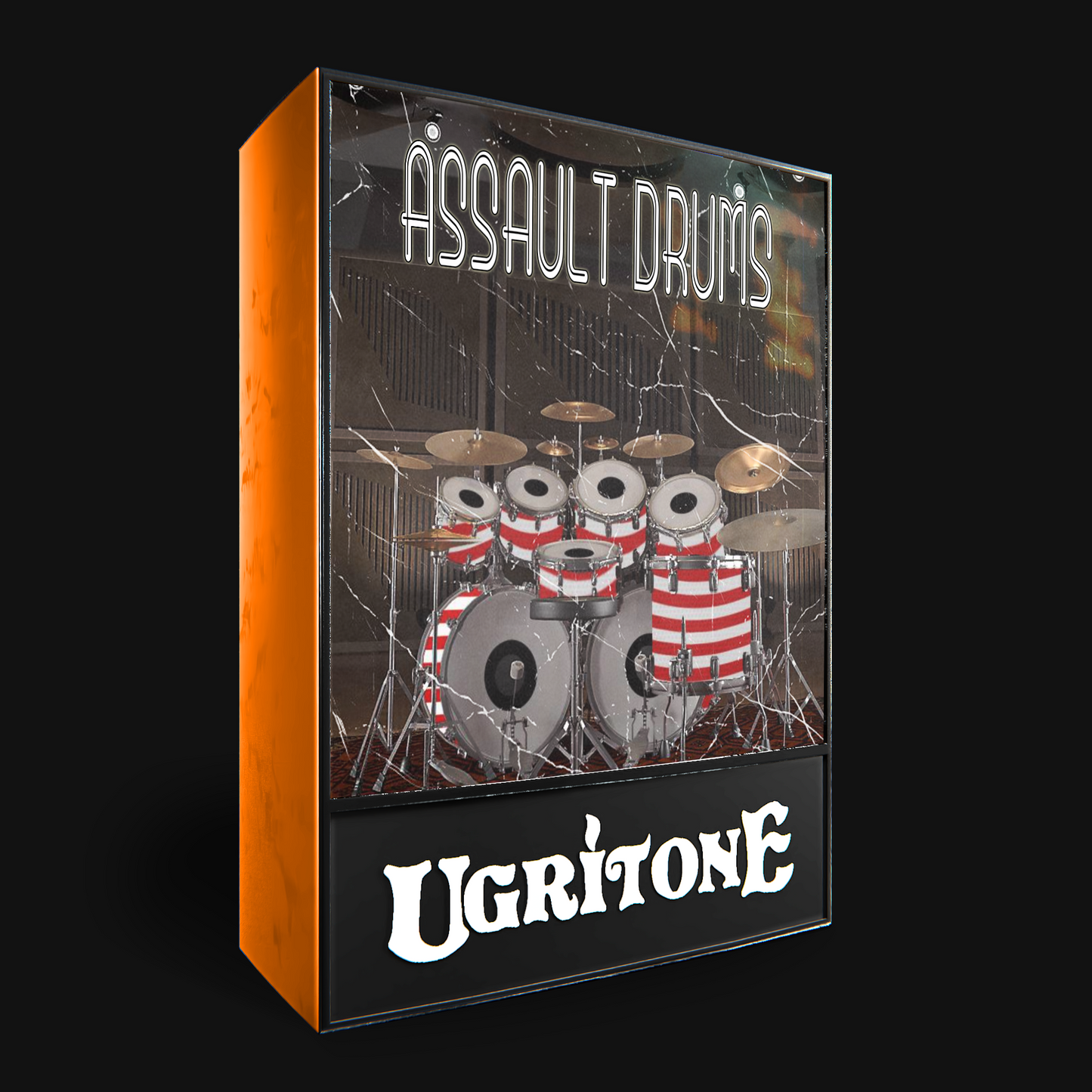 70's's Rock drum sound at the tip of your fingers!

Assault Drums features the drum sound of the 1970's/Early 80's Garage Rock, Hard Rock, Disco, Pop & more.
UK meets USA, Metal meets Rock, Punk meets Fusion.

Whether your drum tones need just a bit more 8-track in there or if the song doesn't quite sound like it comes from a dusty vinyl record - Assault Drums can help you shape your tone.
Kit Presets:
Not sure how a certain Drum Sound was crafted? Kit Presets to the rescue!
We spent hours crafting these presets to give you the best possible starting point per genre & style. Flick through and see which style suits your song the best!

Preset list:
1972UKRock
1978AmericanRock
BasementTapes
BoomofRoom
DiscoInferno
MotorCityUSA
NaturalSnappy
Kicks:
Mapex© Saturn 22x16
Tama© Rockstar 22x14
Peavey© International 22x14

Snares:
Mapex© Saturn Maple 14x5
Pearl© Steel 14x5
Tama© Rockstar Steel 14x5

Toms:
Tama© Rockstar 10x7
Tama© Rockstar 12x8
Tama© Rockstar 13x9
Tama© Rockstar 14x14
Mapex© Saturn 8x6
Mapex© Saturn 10x7
Mapex© Saturn 12x8
Mapex© Saturn 13x9
Mapex© Saturn 14x12

Hihat:
Zildjian© A Custom 14
Custom 16
Ride:
Zildjian© A Custom 20"
Sabian© AA 20" Medium

Crash:
Zildjian© A Custom 17
Zildjian© A Custom 18
Zildjian© A Custom 19
Sabian© AA 18


China:
Zildjian© Oriental Trash 18

Splash:
Zildjian© A Custom 10
Sabian© AA 8"
2x Cowbell
Features:
Ugritone Drums VST/AU/AAX Player Plugin
Installer for Ugritone Drums + Sample Data
4 Snares, 3 Kicks, 2 Full Set of Toms, 10 cymbals (Hihat, Crashes, Chinas, Splashes, Stacks, Ride)
~580 Mb Download Size
Drums Engineered by: Ron D. Rock @ Rockin' Garage, Windsor, ON
Drums Performed by: Ron D. Rock
Collapsible content
System Requirements

Plugins of Ugritone have been successfully tested with the following Operating Systems and Digital Audio Workstations: Please note that this list is subject to change, it will be updated as we complete more tests. This list is not exclusive.

Plugin formats: VST & AU & AAX. Check the specific product for more details.

Operating System:


64-bit Windows 7 SP1 and higher
64-bit MAC OS X 10.9 and higher
New Mac M1&M2 works
older 64-bit Intel Mac works
iOS and Android, nor 32-bit systems 

NOT SUPPORTED

DAW (Audio editing software):


Pro Tools 11 and higher
Cockos Reaper 3.4 and higher
Steinberg Cubase 8 and higher
Cakewalk Sonar X3 and higher
Apple Logic X 10.2.1 and higher
Studio one 3 Professional (Artist edition requires an add-on to operate
3rd Party VST/AU Plugins)
Fruity Loops 11
Digital Performer 9
Ableton Live 8 on macOSX
Ableton Live 9 on PC
Reason 10 on PC
Magix Music Maker

Not-supported DAWs:

Minimum Hardware:
6GB of RAM
Dual Core CPU
a soundcard
4GB of hard drive space

You will need both, a supported Operating System, and a DAW(Audio software) that supports VST/AU/AAX plugins in order to run and use our products.

If the plugins does not work on Windows, make sure you have Visual C++ Redistributable for VS2012 (Official MS download here) installed, or VS2015(Here) depending on our product.
Delivery & Refund

We deliver products for you instantly upon purchase as a digital downloads.

We have a 180 day refund policy. If you are not satisfied with the product, just ask us for a refund within 6 months of your payment and you'll get it. NO QUESTIONS ASKED!