Faster & Louder Drums
Regular price
$79.00 USD
Sale price
$79.00 USD
Unit price
per
Sale
Sold out
Faster & Louder Drums - the ultimate drum sample library for lovers of traditional Heavy Metal and Punk music! With its vast array of sounds, ranging from late 70's to the modern day, this sample pack is perfect for any musician or producer looking to add that classic sound to their tracks.
This pack features 4 full drum sets, a set of cymbals, and 10 snares, all meticulously recorded and processed to capture the raw energy and power of Heavy Metal and Punk drumming.
Whether you're looking for thunderous kick drums, explosive snare hits, or intricate cymbal work, Faster & Louder Drums has everything you need to take your tracks to the next level.

Recorded at Mercinary Studios in Avon, OH by Noah Buchanan & Vanik

Share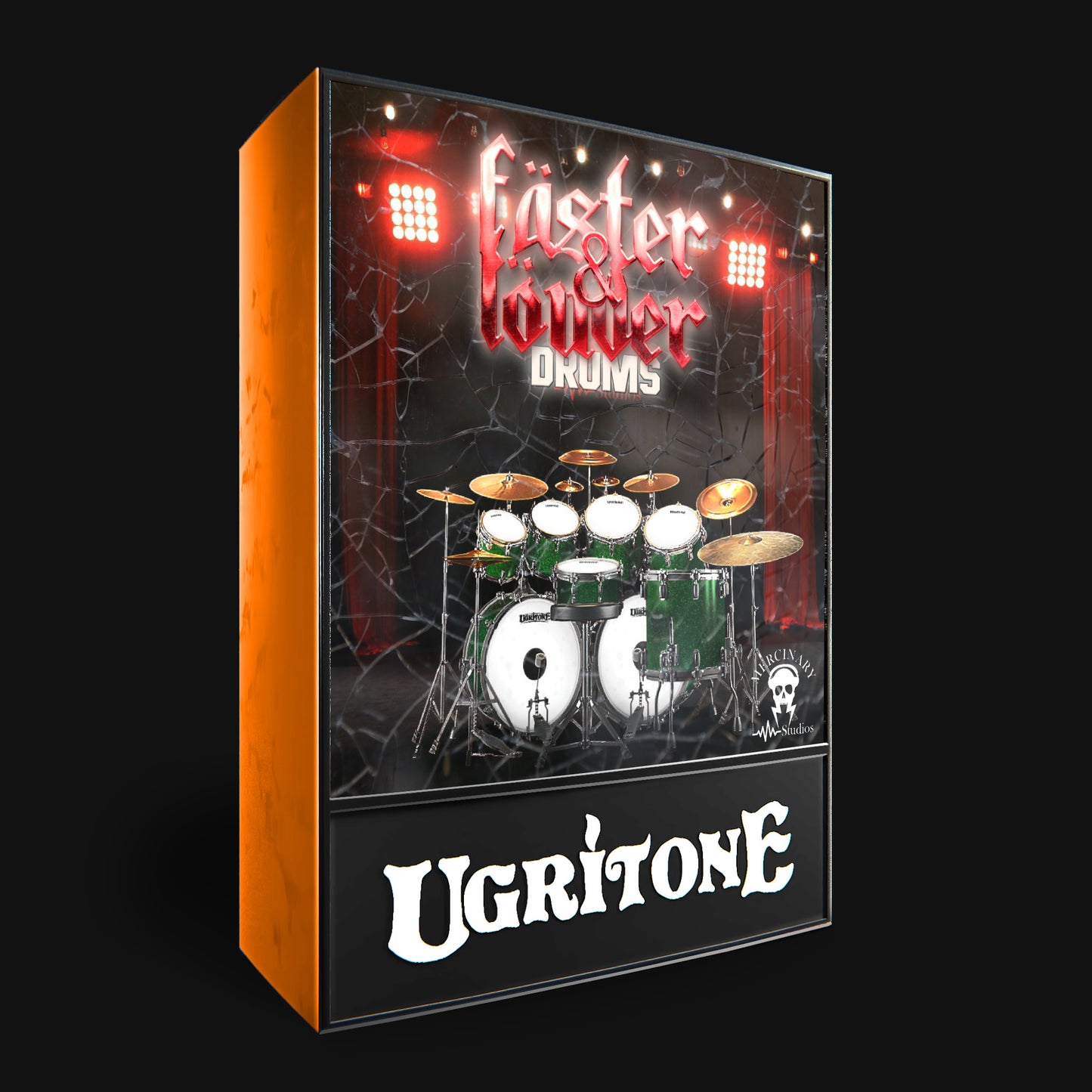 Faster & Louder Drums: Unleash the Thunderous Power of Classic Metal and Punk!

This monstrous collection of sounds is sure to have every headbanger and mosh pit enthusiast salivating, as it captures the true essence of traditional Heavy Metal and Punk music through the decades.
Born out of the fiery pits of Mercinary Studios in Avon, OH, Faster & Louder Drums is the brainchild of none other than the almighty Noah Buchanan (Nunslaughter) and the formidable Vanik (Midnight). Together, these two titans of the underground metal scene have forged a sonic weapon of mass destruction that's bound to become a staple in any musician or producer's arsenal.
Faster & Louder Drums boasts an impressive array of gear, including 4 full drum sets, a set of Paiste cymbals, and 10 snares – all meticulously recorded and processed to deliver the raw, unadulterated power that characterized the heyday of Heavy Metal and Punk drumming.

Get ready to unleash a storm of skull-crushing kick drums, earth-shaking snare hits, and intricate cymbal work that'll send your tracks soaring to new heights of heaviness.
Kit Presets:
Not sure how a certain Drum Sound was crafted? Kit Presets to the rescue!
We spent hours crafting these presets to give you the best possible starting point per genre & style. Flick through and see which style suits your song the best!

Preset list:
Noah MSO Grind
Noah The Carrion Crow
Noah Worship the Goat
Ron Aggro HC
Ron Gretsch
Ron Ludwig
Ron Pearl
Ron Pearl Open
Ron Slingerland
Vanik Mercinary House Pearl
Vanik The Bell Witch
Vanik Thudwig
Vanik Vanik Kit
Kit List:


Kicks:

Pearl© Prestige Session 22"
Gretsch© Catalina 22"
Slingerland© Black 24"
Ludwig© 1976 Maple 26"

Snares:

Pearl© Prestige GPX
Gretsch© Hammered Black Steel
Slingerland© Black
Ludwig© Universal
Blackwood© Custom Black Brass
Blackwood© Custom Stave Birch
Yamaha© Oak

Toms:

Pearl Prestige Session 10", 12", 14", 16"
Gretsch Catalina Maple 12",14",16"
Slingerland Black 14", 16"
Ludwig© 1976 Maple 14", 18"
Rototoms 6", 8", 10"




Hihat:

14" Paiste 900 Series Color Sound

Ride:

Paiste Rude Reign Ride 22"
Paiste Giant Beat Crash/Ride 22"

Crash:

Paiste Rude Crash/Ride 20"
Paiste Giant Beat Crash/Ride 22"

China:

Paiste Rude Novo 20"

FX Cymbals:

Cowbell
Paiste Alpha 10" Splash
Tambourine
Features:
Ugritone Drums VST/AU/AAX Player Plugin
Installer for Ugritone Drums + Sample Data
10 Snares, 5 Kicks, 4 Full Set of Toms, 15 cymbals (Hihat, Crashes, Chinas, Splashes, Stacks, Ride)
~1.0 Gb Download Size
Collapsible content
System Requirements

Plugins of Ugritone have been successfully tested with the following Operating Systems and Digital Audio Workstations: Please note that this list is subject to change, it will be updated as we complete more tests. This list is not exclusive.

Plugin formats: VST & AU & AAX. Check the specific product for more details.

Operating System:


64-bit Windows 7 SP1 and higher
64-bit MAC OS X 10.9 and higher
New Mac M1&M2 works
older 64-bit Intel Mac works
iOS and Android, nor 32-bit systems 

NOT SUPPORTED

DAW (Audio editing software):


Pro Tools 11 and higher
Cockos Reaper 3.4 and higher
Steinberg Cubase 8 and higher
Cakewalk Sonar X3 and higher
Apple Logic X 10.2.1 and higher
Studio one 3 Professional (Artist edition requires an add-on to operate
3rd Party VST/AU Plugins)
Fruity Loops 11
Digital Performer 9
Ableton Live 8 on macOSX
Ableton Live 9 on PC
Reason 10 on PC
Magix Music Maker

Not-supported DAWs:

Minimum Hardware:
6GB of RAM
Dual Core CPU
a soundcard
4GB of hard drive space

You will need both, a supported Operating System, and a DAW(Audio software) that supports VST/AU/AAX plugins in order to run and use our products.

If the plugins does not work on Windows, make sure you have Visual C++ Redistributable for VS2012 (Official MS download here) installed, or VS2015(Here) depending on our product.
Delivery & Refund

We deliver products for you instantly upon purchase as a digital downloads.

We have a 180 day refund policy. If you are not satisfied with the product, just ask us for a refund within 6 months of your payment and you'll get it. NO QUESTIONS ASKED!