Yearly License
Regular price
$97.00 USD
Sale price
$97.00 USD
Unit price
per
Sale
Sold out
Buy a license to use EVERY SINGLE ONE of our products for 1 year. For a price of a couple cups of coffee per month you can use our products to their full extent!
After the year has passed, plugins will notify you to renew the license.
You can find the license key on the download page after purchase. Copy & Paste the code and your e-mail address when the plugins ask for the license.
Share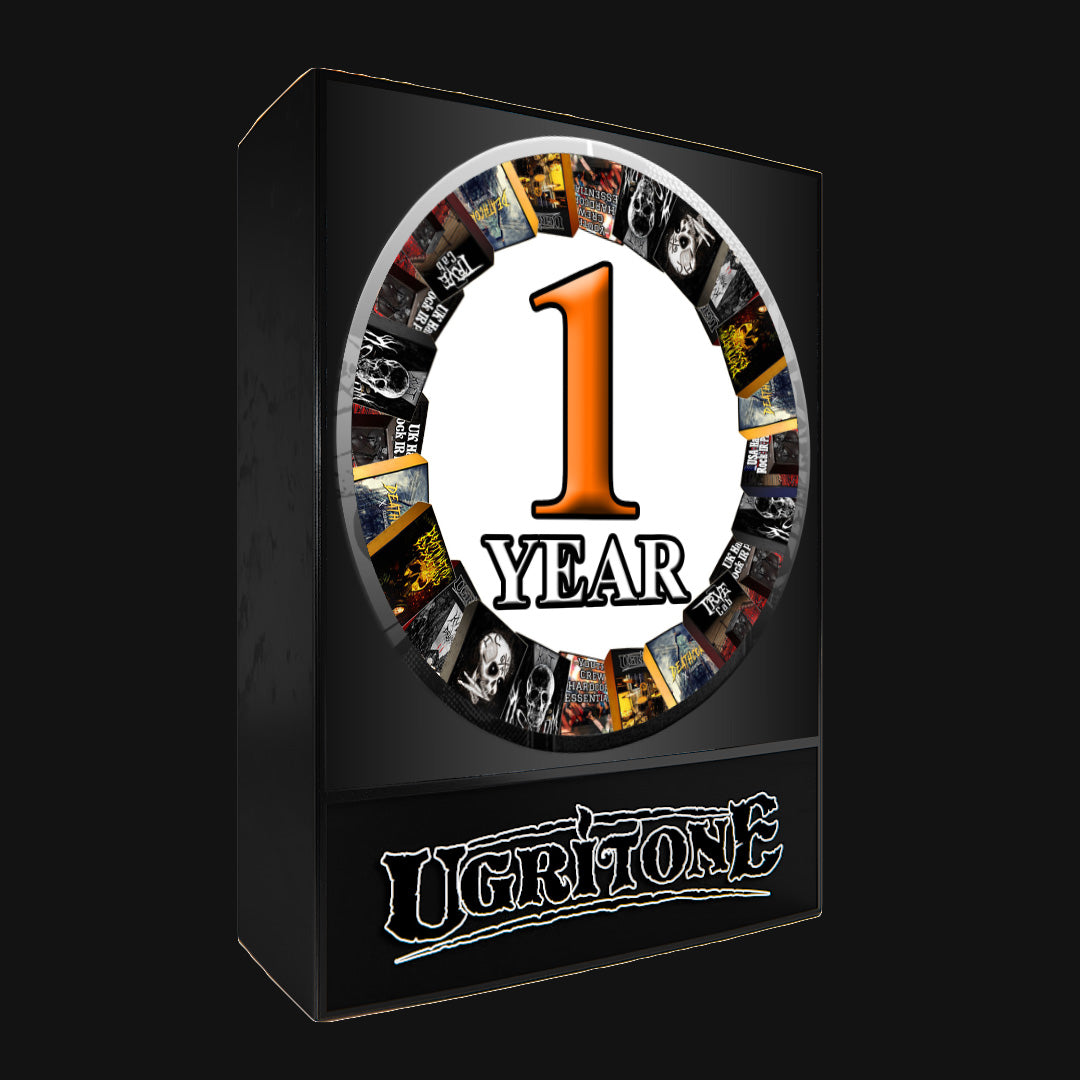 Just some of our product audio demos:
EVERY. SINGLE. UGRITONE PRODUCT in an annual license bundle.
More than a dozen Drum Libraries. Thousands of MIDI grooves. Hundreds of Impulse responses. A handful of VST Plugins - to help you to focus on songwriting!

For $97 / Year. It's a no-brainer. Best bang for the buck for all your Metal writing needs.
Fast toolset for your music composing needs.
Never lose your inspiration again due to too slow technical fiddling.
Throw in drum grooves, press rec and play your instruments on top, voila!
Choose your guitar cab tones from our selection.
Complement the song with DaZuul, Koji and 1989Verb.
Oh boy... Here it goes, bundle includes:
Arena Rock Drums - 80's Hair Metal Drum Library
Assault Drums - 70's Rock Drum VST Plugin
Dieswitch Drums
KVLT Drums
KVLT Drums II
Northern Artillery Drums
OSDM Drums
Punk N Grind Drums
RIOT Drums
RIOT Drums 2
Speed Metal Drums
Vintage Doom Drums
Ridiculous amount of Drum Samples
Choose between many genres, classic tones or blend and invent something totally new.
Be sure to have your OWN sound! Every drum has many mics and freely mix them together.
Choose from premade presets for fast reference tones.
Quality built-in EQ, Compressor, and one-shot samples to polish the result.
and...
Beatdown Hardcore MIDI Pack
Black Metal Anthology MIDI Pack
Black Metal Essentials MIDI Pack
Crust Punk Essentials MIDI Pack
Death Metal Anthology MIDI Pack
Death Metal Essentials MIDI Pack
Deathcore Essentials MIDI Pack
Djentastic Drum MIDI Pack
Doom Metal Anthology MIDI Pack
Doom Metal Essentials MIDI Pack
Emocore Essentials MIDI Pack
Folk Metal Essentials MIDI Pack
Drum grooves - less programming, more jamming
Providing almost any subgenre of Rock, Punk and Metal you can think of makes for an ultimate library to build your songs.
Fast composing, just get it done.
Editable MIDI files, so even allows easy and fast editing when the groove needs that little touch to fit in your riff perfectly.
...more...
Grindcore Essentials MIDI Pack
Grunge Rock Essentials MIDI Pack
HC Essentials MIDI Pack
Heartland Rock Essentials MIDI Pack
Industrial Metal Essentials MIDI Pack
Melodeath Essentials MIDI Pack
Melodic Metal Essentials MIDI Pack
Metalcore Essentials MIDI Pack
Nu Metal Essentials MIDI Pack
NWOBHM Essentials MIDI Pack
Post Metal Essentials MIDI Pack
Power Metal Essentials MIDI Pack
Loads of Guitar Cab IR's to get "that" tone.
Comes with our IR Loader, Trve Cab, with integrated workflow for multiple cab mics with LP/HP filters and an 10-band EQ.
Easy to browse presets and create your own.
Choose from a large variety of tones to fit the guitar in the mix.
And more...
Progressive Death Metal Essentials MIDI Pack
Rock Anthology MIDI Pack
Skate Punk Essentials MIDI Pack
Slam Death Metal MIDI Pack
Street Punk Essentials MIDI Pack
Thrash Metal Essentials MIDI Pack
Youth Crew Hardcore MIDI Pack
70's UK Hard Rock - Impulse Response Pack
70's USA Hard Rock - Impulse Response Pack
Big Rock - Impulse Response Pack
Crossover Thrash - Impulse Response Pack
DoomBazz - Impulse Response Pack
FinnAxe - Impulse Response Pack
FinnBazz - Impulse Response Pack
Other Plugins to compliment your projects:
Dazuul for de-essing your vocals, cymbals, hihats, whatever shizzles too much like a SSsssnake.
1989Verb for old school reverbs, suitable for vocals, drums, guitars, synths, you name it!
Koji, a retro synth for lo-fi synthwave needs and other alternative genres. Get that retro game console feel.
And moreee......
Grunge Rock - Impulse Response Pack
Hair Metal - Impulse Response Pack
Hardcore - Impulse Response Pack
MiniFuzz - Impulse Response Pack
Modern Metal - Impulse Response Pack
NWOBHM - Impulse Response Pack
Old School Black Metal - Impulse Response Pack
SweDeath Metal - Impulse Response Pack
Texas Metal - Impulse Response Pack
TRVE Cab - Impulse Response Loader
USA Death Metal - Impulse Response Pack
USA Thrash Metal - Impulse Response Pack
1989Verb - 80's Digital Reverb VST Plugin
Dazuul - De-Esser plugin
Koji
If you are still unsure...
A drummer on stand-by 24/7 to write exclusively for you? An arsenal of guitar cabinet emulations? Thousands of drum grooves and a few killer plugins for a price of Steak dinner and a round of beers?

You also get all future releases by Ugritone with the yearly license. Stop spending, start saving and start writing music while your toolkit expands on its own.
Maybe it's the genres?
You're not into Old School Metal? That's perfectly fine! Our plugins have been successfully used by thousands of our customers for all sorts of genres. We've heard songs sent to us that range from Chiptune to Synthwave, to Arena Rock, Death Metal, Punk and even Gospel! Our tones are genre specifically categorized, but very well fit in almost every genre imaginable. The genres do not limit our products!

PS. We love to hear our customers' songs! :)
Collapsible content
System Requirements

Plugins of Ugritone have been successfully tested with the following Operating Systems and Digital Audio Workstations: Please note that this list is subject to change, it will be updated as we complete more tests. This list is not exclusive.

Plugin formats: VST & AU & AAX. Check the specific product for more details.

Operating System:
64-bit Windows 7 SP1 and higher
64-bit MAC OS X 10.9 and higher
iOS and Android, nor 32-bit systems NOT SUPPORTED

DAW (Audio editing software):


Pro Tools 11 and higher
Cockos Reaper 3.4 and higher
Steinberg Cubase 8 and higher
Cakewalk Sonar X3 and higher
Apple Logic X 10.2.1 and higher
Studio one 3 Professional (Artist edition requires an add-on to operate
3rd Party VST/AU Plugins)
Fruity Loops 11
Digital Performer 9
Ableton Live 8 on macOSX
Ableton Live 9 on PC
Reason 10 on PC
Magix Music Maker

Not-supported DAWs:

Minimum Hardware:
6GB of RAM
Dual Core CPU
a soundcard
4GB of hard drive space

You will need both, a supported Operating System, and a DAW(Audio software) that supports VST/AU/AAX plugins in order to run and use our products.

If the plugins does not work on Windows, make sure you have Visual C++ Redistributable for VS2012 (Official MS download here) installed, or VS2015(Here) depending on our product.
Delivery & Refund

We deliver products for you instantly upon purchase as a digital downloads.

We have a 180 day refund policy. If you are not satisfied with the product, just ask us for a refund within 6 months of your payment and you'll get it. NO QUESTIONS ASKED!