The Underground Metal Drum VSTi
KVLT Drums II is a Drum Sample Library catered to cover all areas of 80's/90's/2000's Underground Metal Drum Sound. Unpolished beauty, raw natural sound.

Whether you're after chasing the sound of Norwegian fjords, buzzsaw sludge of Sweden, swampy marshlands of Tampa, thrash attack of the Bay Area, ear-piercing brutality of East Coast Death Metal or straight-edge breakdowns of Mid 90's Belgium; KVLT Drums II can cater that drum sound.

Shape it anyway you like, enhance it anyway you like.
Old School Metal Drum Sound at the Tip of Your Fingers!
VST/AU/AAX Compatible
12 Snares, 2 Kicks, 3 Full Set of Toms, 12 cymbals (Hihat, Crashes, Chinas, Splashes, Stacks, Ride)
Over 100 Oneshot samples
~600 Mb Download Size
Includes a Black Metal MIDI Groove Library
Load your own WAV/AIFF/FLAC samples
Drums Engineered by: Ron D. Rock @ New Soundstakk Studios, Windsor, ON
Drums Performed by: Ron D. Rock
Sampler Engine
KVLT Drums 2 will feature our most advanced sampler-engine covering numerous round robins and velocity layers that will ensure the most realistic virtual drumming experience. Advanced scripting combined with our dynamic sampling technique will ensure that you won't get that machine-gun robotic effect out of this one.
Interface & Mixing Features
The graphic user interface allows you to process the kit individually or in groups. You can adjust gain, pan & individual mic levels per each and every drum. Meaning that you can nail the perfect blend of close mics, adjust the levels for overheads, room & FX channels. Total control over every channel.

Drum panels makes it organized and allows free control on panel placement and also ables you to choose to see and adjust only the drums you need to adjust not coggle the entire window with dozens of buttons and knobs which you don't really always need. Organizing buttons on the bottom bar (open all, close all, position in grid, open mix/FX/Routing tab for all) Makes handling large amounts of panels a breeze for mixing and setup!

Mic Features:
To ensure full control over each and every channel, KVLT Drums II was captured with multiple close mics, FX mics along with Overheads & Room Channels.

Close Mics:
Snare & shells: SM57 (1073 & Aural Exciter)
Cymbals: U47 FET (G9 & 55B)
Kick: SM57 & U47 FET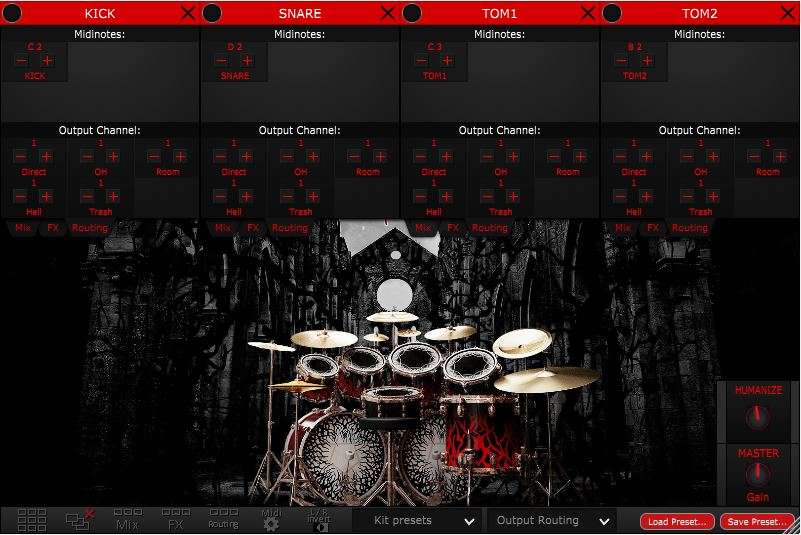 The Hell Mic:
This channel is the glue to make the kit sound even tighter together. Placed flat on the floor and compressed to death, The Hell Mic unites the kit.
Hell Mic: SM57 (Distressor, Limiter)

The Trash Mic:
If the Hell Mic is bringing the glue, the Trash Mic is bringing the grit. Bringing up those nasty overtones and that 4-track demo feel. Blend it in to get nice distorted harmonics or let this one dominate for Pure Fucking Armageddon.
Trash Mic: Unknown Talkback Mic (1073 & EQ)

Overheads:
Overheads is the crucial element to each and every drum sound. Some like to get the full picture out of Overheads while some like to carve out the lows and let it sparkle in the highs. We gave you the fullest, yet brightest possible starting point for Overhead sound so regardless of your approach, you are one-step closer in nailing a good Overhead sound.
Overhead Mics: Stereo Pair of KM184's (V72 & 1084)

Room Mics:
Room Channel captured the small yet punchy sound of the brand new Soundstakk Studios. Nulled away from the kit, the room mics added weight and depth into the drums.
Room Mic: Stereo Pair of 76's (G9, 670, 55B)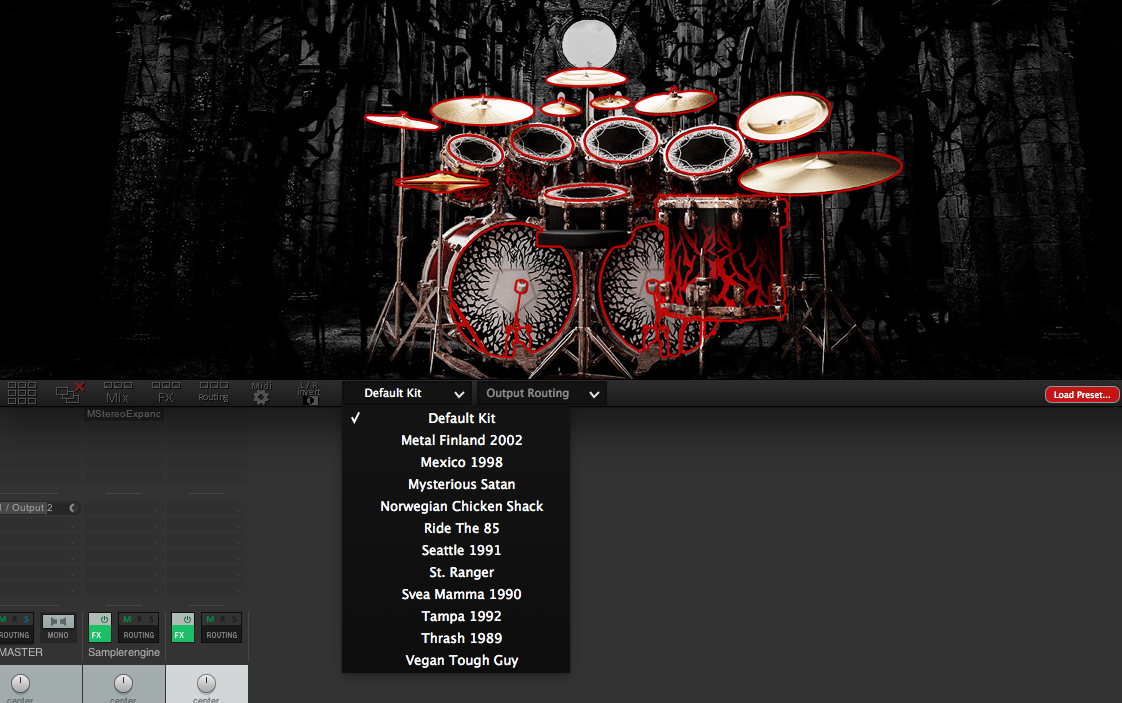 Kit Features*:
Kicks:
Mapex Armory 22x18 (MorrisKick, StickyKick)

Snares:
Mapex Black Panther 14x6.5 (MorrisSnare, BonzoSnare)
Ludwig Black Beauty 14x6.5 (HolyLudwig, MeanLudwig, TightLudwig)
Mapex Warbird 12x5.5 (Metalbird, Vertibird)

Toms:
Mapex Armory 8x8 (Clear/Concert/Teatowel)
Mapex Armory 10x7 (Clear/Concert/Teatowel)
Mapex Armory 12x8 (Clear/Concert/Teatowel)
Mapex Armory 16x14 (Clear/Concert/Teatowel)
Mapex Armory 18x16 (Clear/Concert/Teatowel)

Hihat:
Sabian AA Medium Hat 14"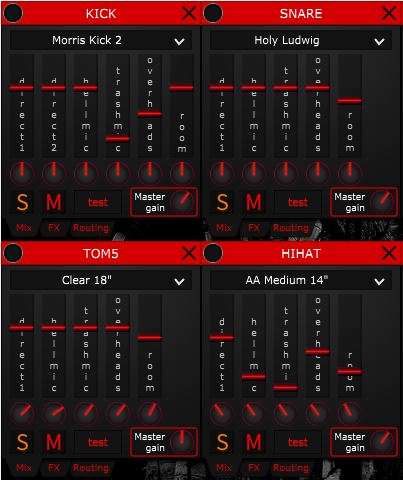 Ride:
Sabian XSR Medium Ride 20"

Crash:
Ziljdian A Custom 16"
Sabian XSR Fast Crash 18"
Zildjian K Custom 19"
Sabian XSR Rock Crash 18"

China:
Ziljdian K Custom 19"

Splash:
Sabian AAX 8"
Wuhan 10"

China 2:
Wuhan China 12"

Stack:
Custom Stack 19"
Custom Stack 12"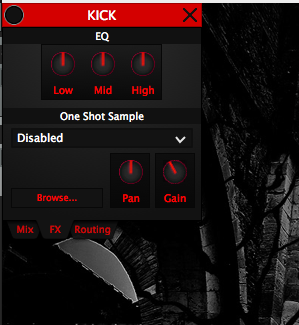 Load your own One-Shot samples:
Drums need more consistency and need to cut through mix better? Add One-shot WAV's! KVLT Drums 2 comes equipped with some cool one-shot WAV's to enhance your drumming experience even further. You can also load your own personal favourites to thicken up those drums.

With One-Shots KVLT Drums II Becomes almost endlessly adjustable drum sampler that can produce many varieties of heavy drum tones!
Kit Presets:
Not really sure how a certain Drum Sound was crafted? Kit Presets to the rescue!
We spent hours crafting these presets to give you the best possible starting point per genre & style. Flick through and see which style suits your song the best!

Preset list*:
DefaultKit
MetalFinland2002
Mexico1998
MysteriousSatan
NorwegianChickenShack
Ridethe85
Seattle1991
St.Ranger
SveaMamma1990
Tampa1992
Thrash1989
VeganToughGuy
TRVE KVLT
Cardinal Kings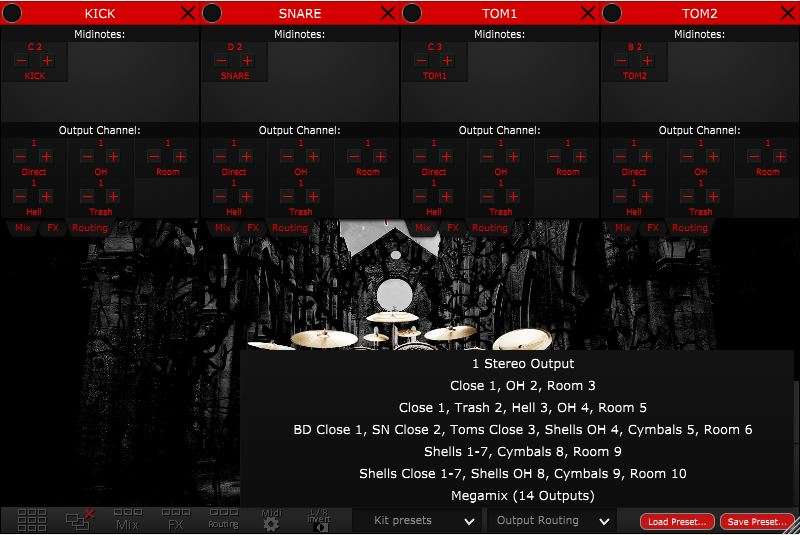 Output routing presets
KVLT Drums II Comes with 16 output channels to your audio editor for maximum mixing versatility. But sometimes it gets just too complex for the purpose. Output routing presets are here to help. Just need 1 single stereo output? Need to have Shells and Cymbals separated? It's all super easy!

But if you are like us and sometimes want to dive deep, it's possible!

For example you could compress only the toms and add some reverb. Need to add some saturation on the Cymbals or Snare? You got it. Multiband-compress your entire room channel? Done. Want to go totally whacky and mix different mics without any restrictions with each other and the add FX on your audio edtor? That's possible too! Free multi output routing is incredibly flexible when doing pro mixes and going all nuts!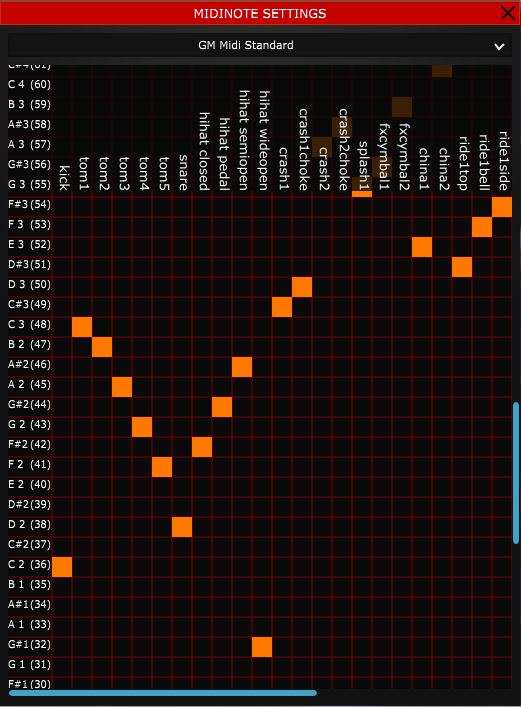 Adjustable Midinotes
There's 2 ways in KVLT Drums II To adjust midinotes.

First one is on the individual drum panels, which makes it easy to see which note is for which drum / cymbal (hihat Closed / Pedal / Open etc).

The other one is midimap editor which allows you to see all the midinotes on one matrix and adjust them at once, and also load different midimap presets to match some major drum sample libraries and midipacks.

Midieditor also shows played midinotes so it helps you to map your midinotes, for example, with an electronic drumkit that often times doesn't follow any standard for notes.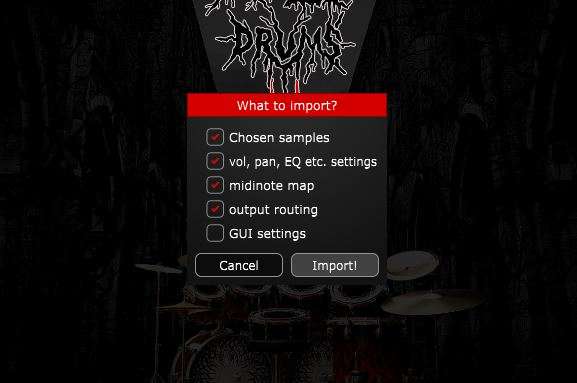 Save & Load your own Presets
You can save presets outside audio editor and even share them, but most importantly, to ease workflow. With dynamic loading you can select what to import, which makes for example, loading just a midinote map for your e-kit super easy, or loading the chosen samples but keeping everything else untouched to test different combinations for your mix.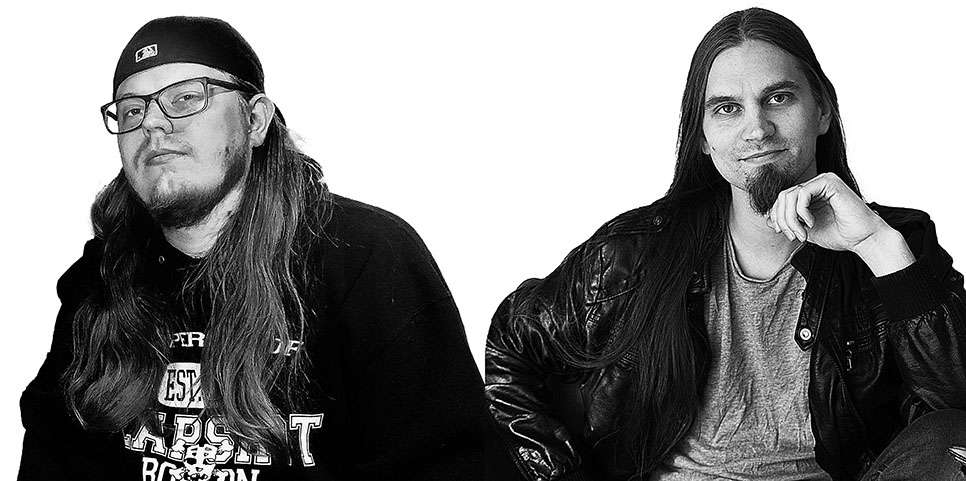 Who are we?
"True innovation lies in those who'll truly dare to challenge the status quo"

Ugritone, offers audio-tools made by Ron D. Rock and Toni Kauko. We are Homestudio producers making Plugins, Virtual Instruments and Songwriting tools for Homestudio producers.

Sounds of the yesteryears with a modern twist and workflow.

Whether it's Black Metal, Punk, Thrash or Chiptune, you'll likely to find a familiar tone from our products.
What customers have said about us?
Our average customer rating is 4.39 out of 5.0 stars (Based on 466 reviews)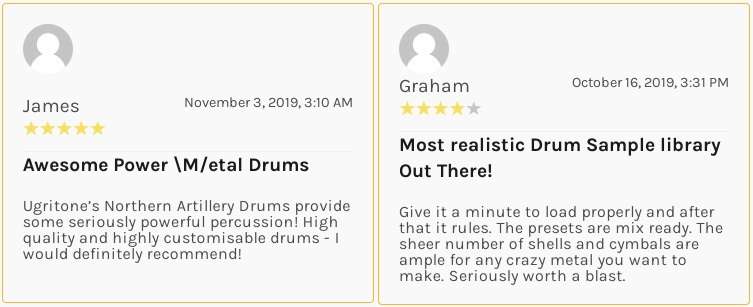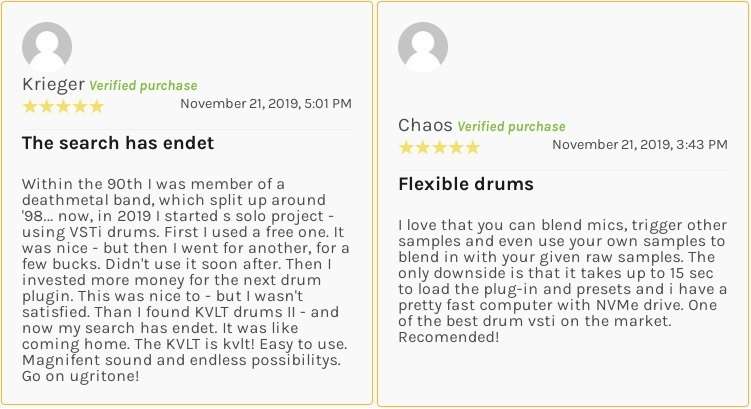 What producers have said about us?
RIOT Drums
"Really good and natural samples. Simple interface, incredibly fast tweaking in the mixer and routing sections! And snare is sounding great on blastbeats!!!"

- Stefano Morabito, Producer (Fleshgod Apocalypse, Decrepit Birth, Internal Suffering, Hour of Penance, Obscenity)
KVLT Drums
"These drums deliver the exact sound of the classic Norwegian Black Metal days. Perfect start for your new black metal project. Completely unprocessed and ready for music from the cold dark north. They're great!"

- Scott Elliott (Chernobyl Studios)
TRVE Cab
"Ugritone really knocked the ball out of the park with this one. I was really impressed with how dead-on target these IR's sound, absolutely on point! I felt like I was standing in the rehearsal room, right next to my amp - or at a mythical guitar friendly recording studio"


-Karl Sanders (Nile)
Why go with Ugritone?
We are not here to serve the "industry standard", which means we have no quotas to meet & no trends to follow.

Our products aren't made by A-list producers in a million dollar studio with drum kits rented from a museum. We don't process our sounds to the max on the way in.

We believe YOUR music should sound like YOU.

Less we process the sounds, the more it lets YOU process them.