Get Black Metal Essentials MIDI Pack for $5!
( Original price $15 )

Black Metal Essentials MIDI Pack really digs into something that's rarely seen. Black Metal Drum grooves, simple and straightforward, for you. With these beats you're able to compose your own black metal songs with ease. And this time, you are able to get them dirt cheap by joining our newsletter! And what's great about joining our newsletter, you'll be ahead of the game and get all the updates, news and discounts before everyone else!

Disclaimer: MIDI Packs require a drum sampler to playback the beats.

Join our Inner Circle newsletter for exclusive deals and news and get our Black Metal Essentials MIDI Pack for ONLY $5! Join below:
Black Metal Essentials MIDI Pack
"First there was a kit, then came beats" Black Metal Essentials MIDI pack gives you the essentials of Old School Black Metal Drumming. You'll find blast beats, you'll find triplet beats, you'll find the regular beats, all beats evil and ready to summon the darkness. We also included a handful of fills. You'll also find cymbal swells, crescendos etc. And a bonus, "Death March" package!

PLEASE NOTE: This MIDI package only contains the MIDI files, no sampler included.

System Requirements:
How to use MIDI (What is MIDI?)
Drum Sampler (such as KVLT Drums, Riot Drums, EzDrummer, Steven Slate Drums etc)
Groove List
BackBeatTripletDblBass
DoomBeat
DoubleBassBeat
EvilSkank
FreezingBeat
HellhammerBlast
OldBlast
PaganBeat
Prog
RegularBeat
RegularBeatDblBass
Skank
TripletBackBeat
TripletRegBeat
UpbeatDblBass
VargBeat
...and more!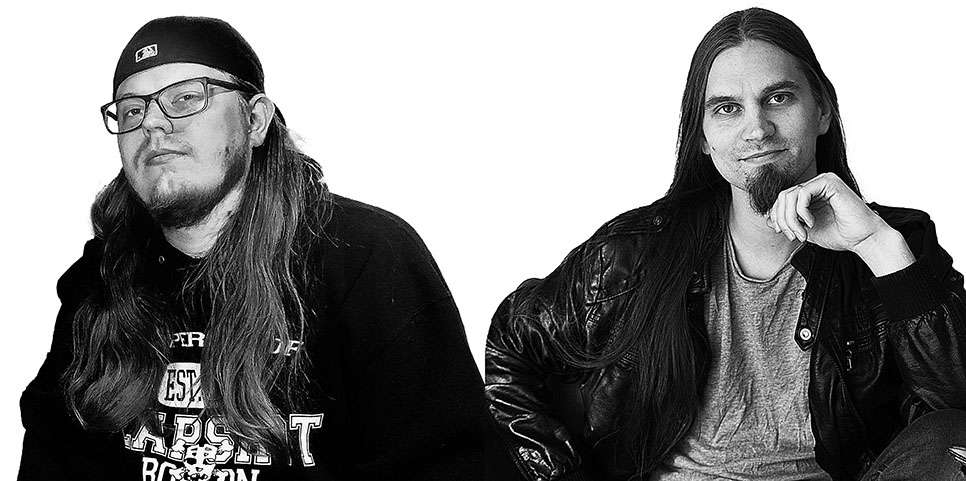 Who are we?
"True innovation lies in those who'll truly dare to challenge the status quo"

Ugritone, offers audio-tools made by Ron D. Rock and Toni Kauko. We are Homestudio producers making Plugins, Virtual Instruments and Songwriting tools for Homestudio producers.

Sounds of the yesteryears with a modern twist and workflow.

Whether it's Black Metal, Punk, Thrash or Chiptune, you'll likely to find a familiar tone from our products.
Why go with Ugritone?
We are not here to serve the "industry standard", which means we have no quotas to meet & no trends to follow.

Our products aren't made by A-list producers in a million dollar studio with drum kits rented from a museum. We don't process our sounds to the max on the way in.

We believe YOUR music should sound like YOU.

Less we process the sounds, the more it lets YOU process them.
What customers have said about us?
Our average customer rating is 4.44 out of 5.0 stars (Based on 577 reviews)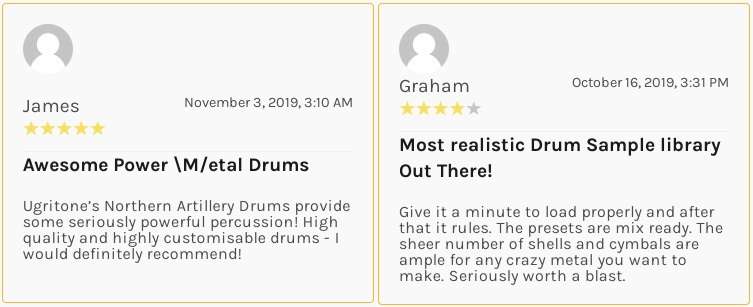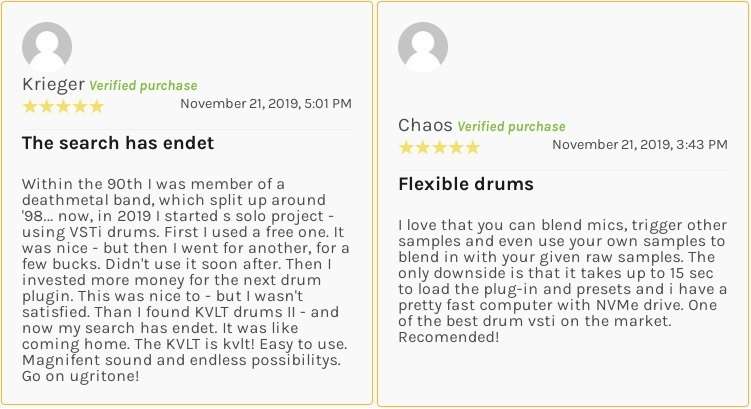 What producers have said about us?
RIOT Drums
"Really good and natural samples. Simple interface, incredibly fast tweaking in the mixer and routing sections! And snare is sounding great on blastbeats!!!"

- Stefano Morabito, Producer (Fleshgod Apocalypse, Decrepit Birth, Internal Suffering, Hour of Penance, Obscenity)
KVLT Drums
"These drums deliver the exact sound of the classic Norwegian Black Metal days. Perfect start for your new black metal project. Completely unprocessed and ready for music from the cold dark north. They're great!"

- Scott Elliott (Chernobyl Studios)