"Koji has been an invaluable addition to my composition palette for retro 16Bit chiptunes. Koji takes all of the work out of custom sampling sounds in the 16bit style. Every instrument sounds great out-of-the-box!"
- Steven Melin (Video Game Music Composer)
The Ultimate 16-bit Retro Gaming Sound Library
1990: You had to blow into gaming cartridges, you probably had a mullet, and you first musical touch was a keyboard that played Wake Me Up Before You Go Go. Well that classic 16-bit sound is back. Koji brings you the sound of 80's/90's Retro Gaming.

Inspired by a keyboard that was used for numerous video games in the 80's and 90's. Koji also brings an extended scale and modulation/pitch control that wasn't possible in the original unit.

Relive your childhood, relive the gaming moments, unleash Koji.


VST/AU/AAX Compatible
Total File Size: 100 Mb
Classic 16-bit Sound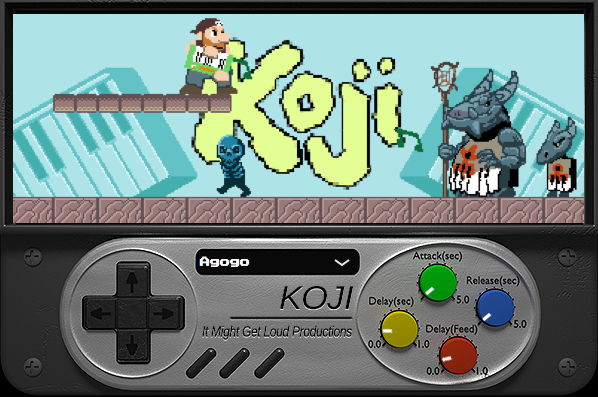 What's Included?
57 Classic 16-bit sounds (including pads, leads, percussion, strings, brass)
Extended Range of Playable Notes
Pitch & Sustain control
Attack & Release controls
Simple Delay (Time & Feedback)
Animated GUI of Mr. Koji battling the never-ending battle
How to Make 16-bit Video Game Music?
Composer
Steven Melin
shows you how to make Koji VST to sound like those classic SNES©, NES©, Nintendo©, 8-bit, 16-bit, Chiptune-style Soundtracks in the late 1980's/1990's.