Drums Against Humanity
Regular price
$99.00 USD
Sale price
$99.00 USD
Unit price
per
Sale
Sold out
Drums Against Humanity offers a rare opportunity to experience the legendary drum sound of Zbigniew "Inferno" Prominski, known for his work with Behemoth and Azarath.

This VST/AU/AAX drum library is equipped with 2 bass drums, 5 snares, 8 toms, and countless cymbals, providing you with a comprehensive toolkit for creating powerful drum tracks.

Recorded at Tall Pine Records in Kolbudy, Poland and produced by Haldor Grunberg, Drums Against Humanity captures the essence of Inferno's unholy drumming style. Multi-sampled in great detail, this virtual drum library offers the most realistic drum performance available, powered by Ugritone's powerful sampling engine.

Whether you're a producer, composer, or drummer, "Drums Against Humanity" is the perfect tool for elevating your music to the next level. Try it now and discover the power of Inferno's drumming!
- Available in VST/AU/AAX platform
Share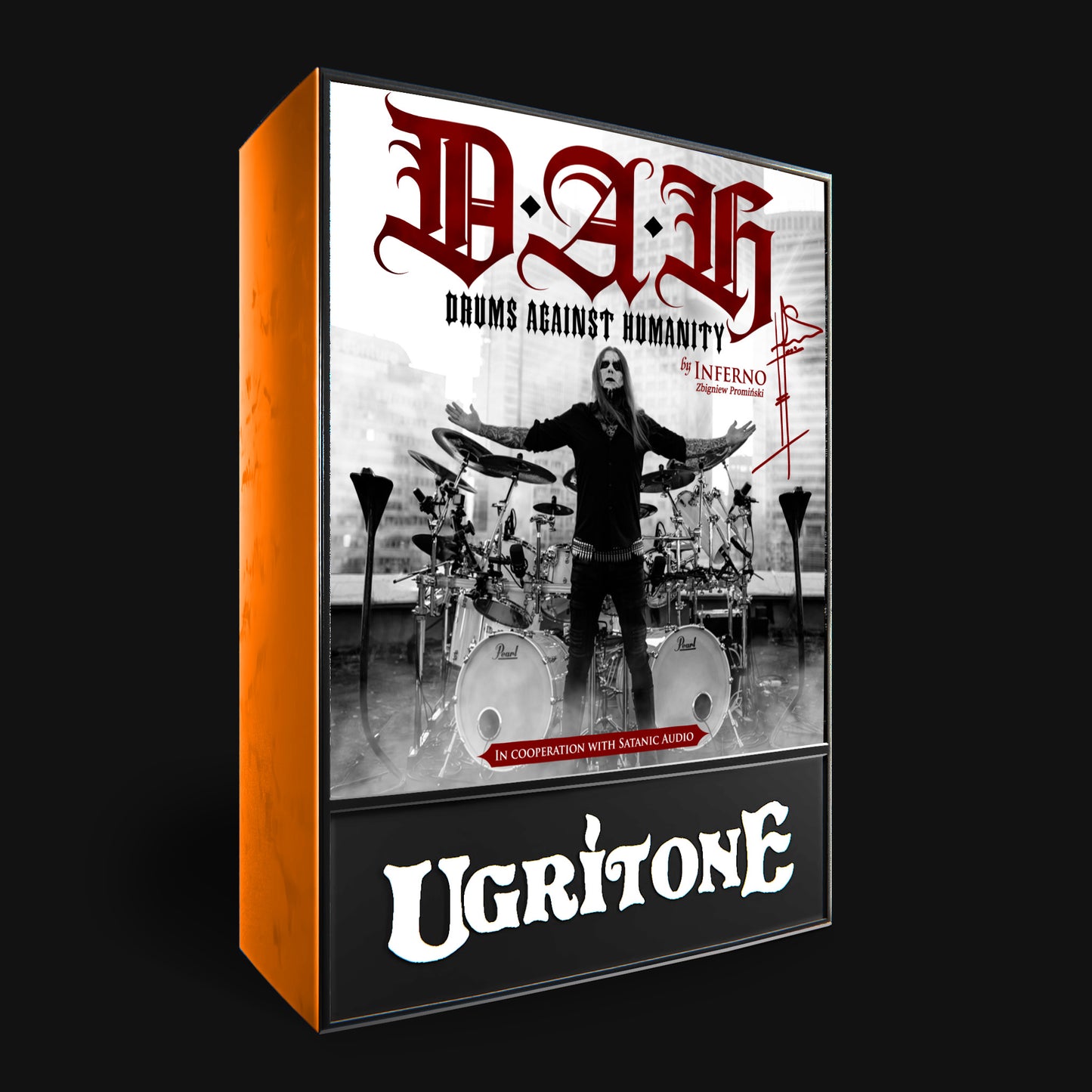 Meet the Drums ov Hell


Drums Against Humanity is a Drum Sample library that offers a rare access to Zbigniew "Inferno" Prominski's (Behemoth, Azarath) sought-after drum sound.
Equipped with 4 Bass Drums, 5 snares, 8 toms & countless cymbals, Drums Against Humanity allows entrance to Inferno's unholy drum vault.
Recorded at the legendary Tall Pine Records, in Kolbudy, Poland by Haldor Grunberg (Satanic Audio) whose magic touch was printed all-over Behemoth's chart-topping 2022 album "Opvs Contra Nvturam".
Multi-sampled in great detail, Drums Against the Humanity offers you the most realistic virtual drum performance powered by Ugritone's sampling engine.
Kit Presets:
Not sure how a certain Drum Sound was crafted? Kit Presets to the rescue!
We spent hours crafting these presets to give you the best possible starting point per genre & style. Flick through and see which style suits your song the best!

Preset list:
Haldor: Hi Inferno, Haldor Here
Haldor: Sometimes Dead is Better
Haldor: War Metal Carpet Bombing
Ron: Left Hand Sweden
Ron: Norge Helvete
Ron: Reign in Zubr
Ron: Slay the Prophet
Ron: Throwback FL
Zbigniew "Inferno" Prominski- performance, sampling, selection of instruments, artistic direction
Haldor Grunberg (Satanic Audio) - engineering & mix
Mikolaj Kiciak - drum tech & assistance
Oskar Szramka & Marcin Zdziuch - pictures and filming
Tomek Łączyński - cover photo
Mentalporn - DAH logo

Thomas Lisle-Brooker - GUI Photo

Drums Against Humanity was recorded at Tallpine Records in Kolbudy, Poland in July 2022
Features:
Drums Against Humanity VST/AU/AAX Player Plugin
Installer for Drums Against Humanity + Sample Data
5 Snares, 2 Kicks, 1 Full Set of Toms, 15 cymbals (Hihat, Crashes, Chinas, Splashes, Stacks, Ride)
~1.0 Gb Download Size
Collapsible content
System Requirements

Plugins of Ugritone have been successfully tested with the following Operating Systems and Digital Audio Workstations: Please note that this list is subject to change, it will be updated as we complete more tests. This list is not exclusive.

Plugin formats: VST & AU & AAX. Check the specific product for more details.

Operating System:


64-bit Windows 7 SP1 and higher
64-bit MAC OS X 10.9 and higher
New Mac M1&M2 works
older 64-bit Intel Mac works
iOS and Android, nor 32-bit systems 

NOT SUPPORTED

DAW (Audio editing software):


Pro Tools 11 and higher
Cockos Reaper 3.4 and higher
Steinberg Cubase 8 and higher
Cakewalk Sonar X3 and higher
Apple Logic X 10.2.1 and higher
Studio one 3 Professional (Artist edition requires an add-on to operate
3rd Party VST/AU Plugins)
Fruity Loops 11
Digital Performer 9
Ableton Live 8 on macOSX
Ableton Live 9 on PC
Reason 10 on PC
Magix Music Maker

Not-supported DAWs:

Minimum Hardware:
6GB of RAM
Dual Core CPU
a soundcard
4GB of hard drive space

You will need both, a supported Operating System, and a DAW(Audio software) that supports VST/AU/AAX plugins in order to run and use our products.

If the plugins does not work on Windows, make sure you have Visual C++ Redistributable for VS2012 (Official MS download here) installed, or VS2015(Here) depending on our product.
Delivery & Refund

We deliver products for you instantly upon purchase as a digital downloads.

We have a 180 day refund policy. If you are not satisfied with the product, just ask us for a refund within 6 months of your payment and you'll get it. NO QUESTIONS ASKED!