Harvest the Heaviest Tones This Season with Ugritone!
As leaves fall and autumn sets in, it's time to reap the rich sonic rewards we've cultivated for you. Ugritone brings a cornucopia of music production tools right to your fingertips, ensuring your tracks echo with unparalleled intensity.
From now until October 15th, discover unbeatable deals on our premium drum samples, virtual instruments, and cutting-edge audio plugins. This is your moment to elevate your musical creations, blending the essence of the harvest season with the raw power of metal!
Faster & Louder Drums
Total Studio Drums is a comprehensive drum library designed for Modern Rock, Pop, Country, and Metal music styles. This collection of mix-ready drum tones provides producers and musicians with a wide range of sounds to choose from, ensuring that you'll always find the perfect drum sound for your projects.
Regular price
$79.00 USD
Sale price
$29.00 USD
Unit price
per
Sale
Sold out
View full details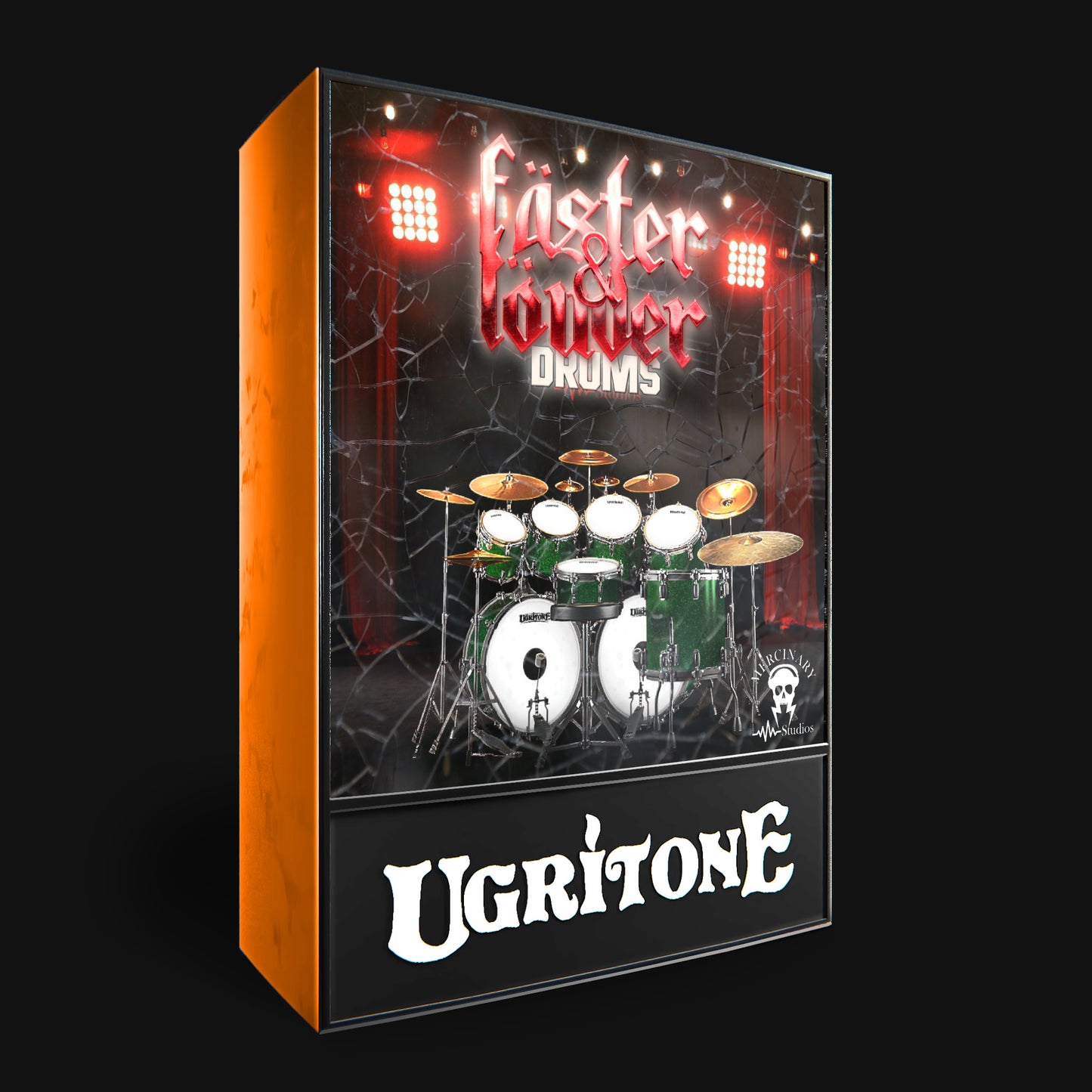 Tight Studio Drums
Ultimate Aggressive Lo-Fi Drum Library at the tip of your fingers! Punk N Grind Drums is a Drum Sample Library designed to cater the Drum tone of all things Lo-Fi. Whether your making Punk, Grindcore, Lo-Fi Pop, Black Metal or Garage Rock - Punk N Grind Drums can cater the tone you're after.
Regular price
$29.00 USD
Sale price
$10.00 USD
Unit price
per
Sale
Sold out
View full details
Vintage Doom Drums
Faster & Louder Drums - the ultimate drum sample library for lovers of traditional Heavy Metal and Punk music! With its vast array of sounds, ranging from late 70's to the modern day, this sample pack is perfect for any musician or producer looking to add that classic sound to their tracks.
Regular price
$49.00 USD
Sale price
$19.00 USD
Unit price
per
Sale
Sold out
View full details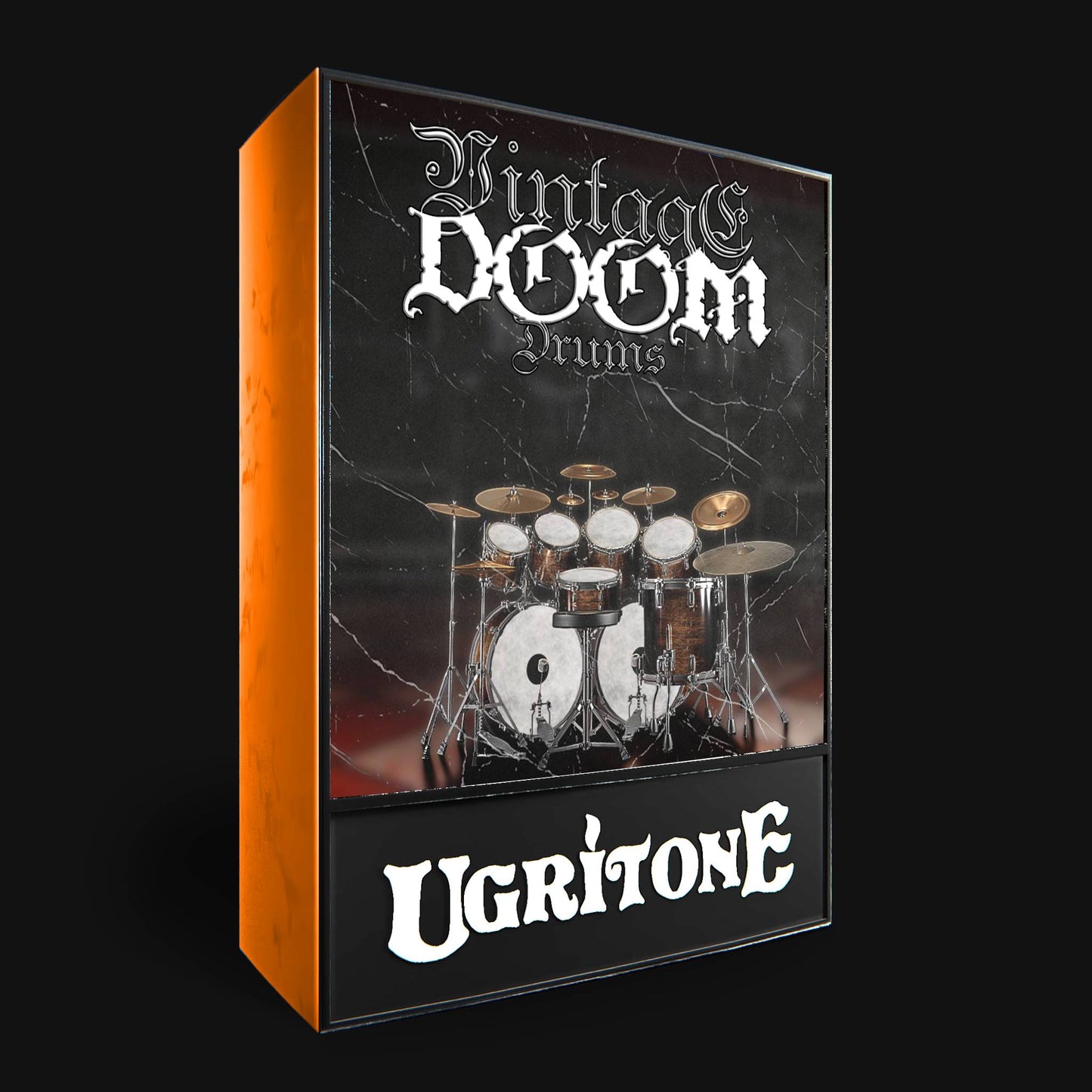 Almighty MIDI Pack: 2017-2022 MIDI Collection
OVER 4500 BEATS / FILLS! Our biggest midi pack ever. Black Metal, Death Metal, Metalcore, Deathcore, Thrash Metal, Hardcore, Punk, Grunge, Doom, Grindcore, Post Metal, Emo, Heartland Rock, Industrial, Rock, Heavy Metal and Djent Drum MIDI Grooves.... and more!!!
Regular price
$470.00 USD
Sale price
$99.00 USD
Unit price
per
Sale
Sold out
View full details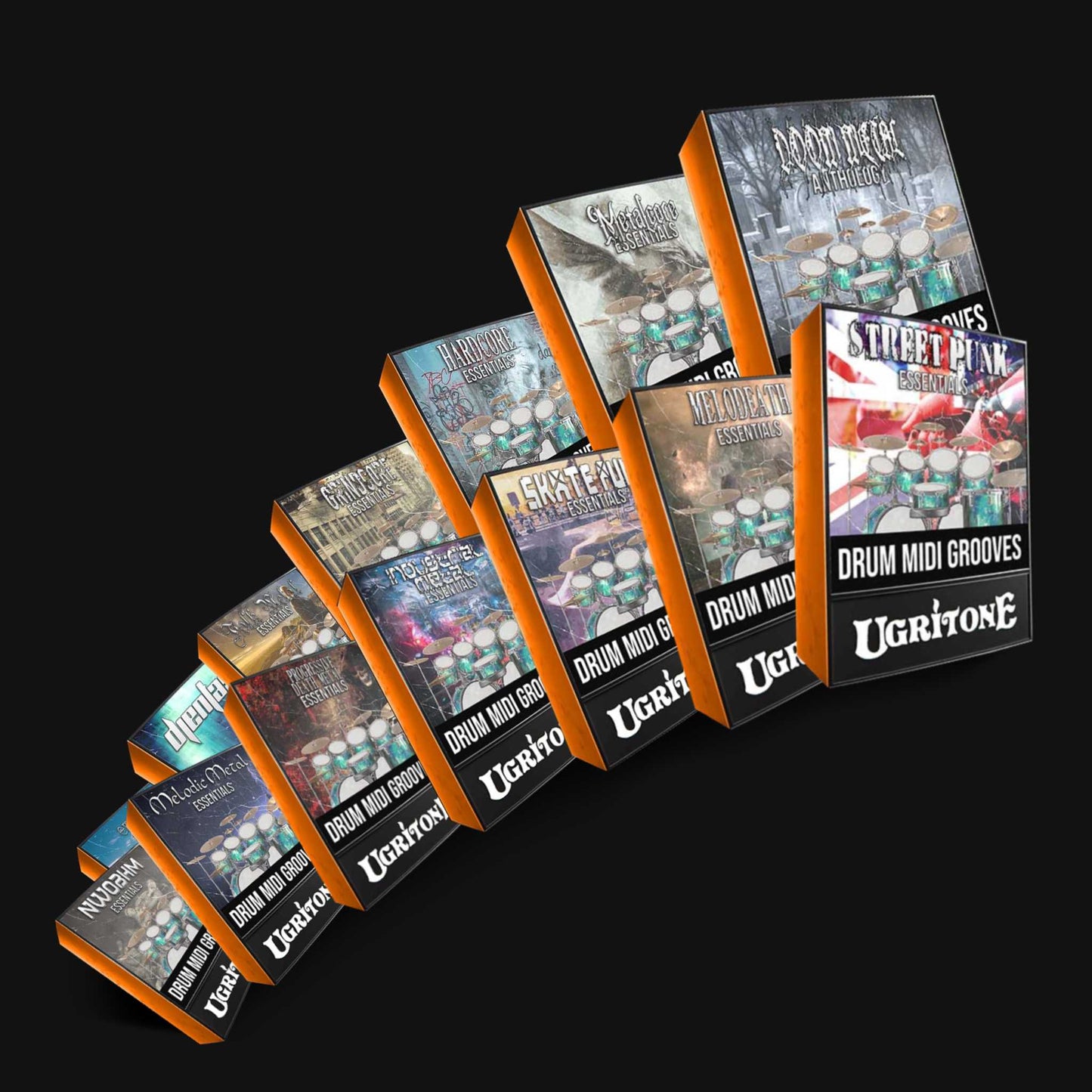 Why buy from Ugritone?

We have been in business 5 years and served over 60 000 satisfied customers!



We are not here to serve the "industry standard", which means we have no quotas to meet & no trends to follow.

We believe YOUR music should sound like YOU.

Less we process the sounds, the more it lets YOU process them.

Our footprint to the environment is minimal. But we hope that to your music, it'll be maximal!



Not Satisfied? No questions asked Refund Policy for 180 days!
FAQ
Will Ugritone Drums work on my computer?

64-bit PC Windows 7 and higher
64-bit MAC OS X 10.9 and higher

4GB of RAM
Dual Core CPU
a soundcard
4GB of hard drive space

Please note:
iOS and Android NOT SUPPORTED
Which DAW's are currently supported

VST/AU/AAX 64-bit only:

Pro Tools 11 and higher
Cockos Reaper 3.4 and higher
Steinberg Cubase 8 and higher
Cakewalk Sonar X3 and higher
Apple Logic X 10.2.1 and higher
Studio one 5
FL Studio 11
Digital Performer 9
Ableton Live 8 (Mac)
Ableton Live 9 (PC)
Reason 1
Magix Music Maker
GarageBand
Mixcraft
Harrison Mixbus

Not-supported DAWs:

Cakewalk BandLab
Are MIDI Notes Samples?

MIDI = Musical Instrument Digital Interface.For a Songwriter, MIDI is the DNA of DAW controlled music. In short, it's information signal that tells Virtual Instruments what notes to play, when to play them, how hard or how soft to play them, how long to hold the notes and much much more.

While MIDI itself contains no audible signal, it basically tells Ugritone Drums (or other drum instruments) what to play and how to play them.